Functional potentialities of SOCOCO
SOCOCO virtual office is a unified visual working space — space, which graphically displays all your company. With working offices, meeting rooms, conference rooms and avatars of employees. You see the dynamic interaction in real time and can actively participate in it.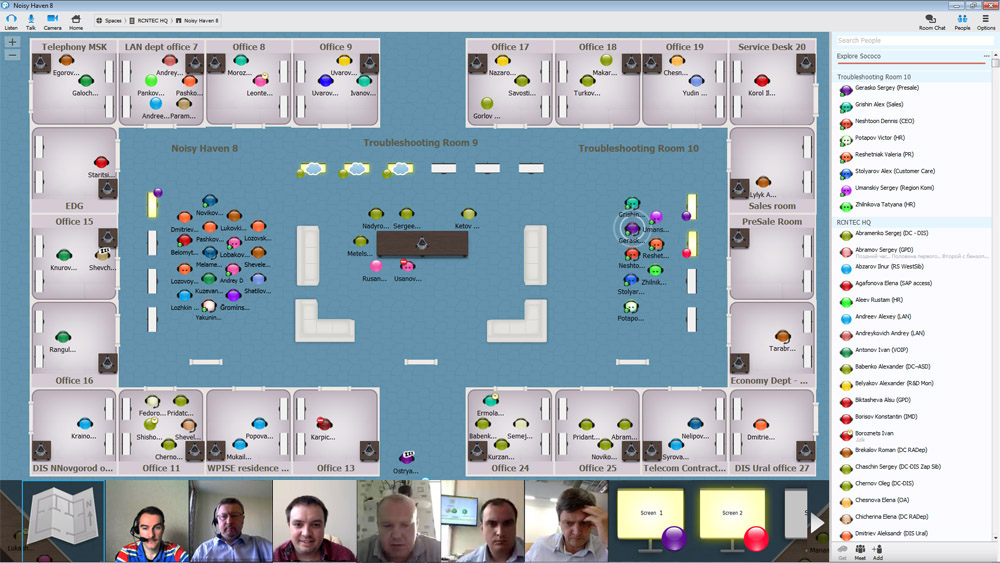 It is a system that not just offers all the most advanced and modern tools for business interaction, it does it in the most optimal and natural combination. The SOCOCO service includes most of the features included in Unified (incorporated, universal) communications (Unified Communications), and is offered as a cloud service.
Virtuality (Virtual office)
Employees can be located in different offices, in different cities, working at home or on a business trip, but visually they will be in the same virtual office space, forming virtual teams.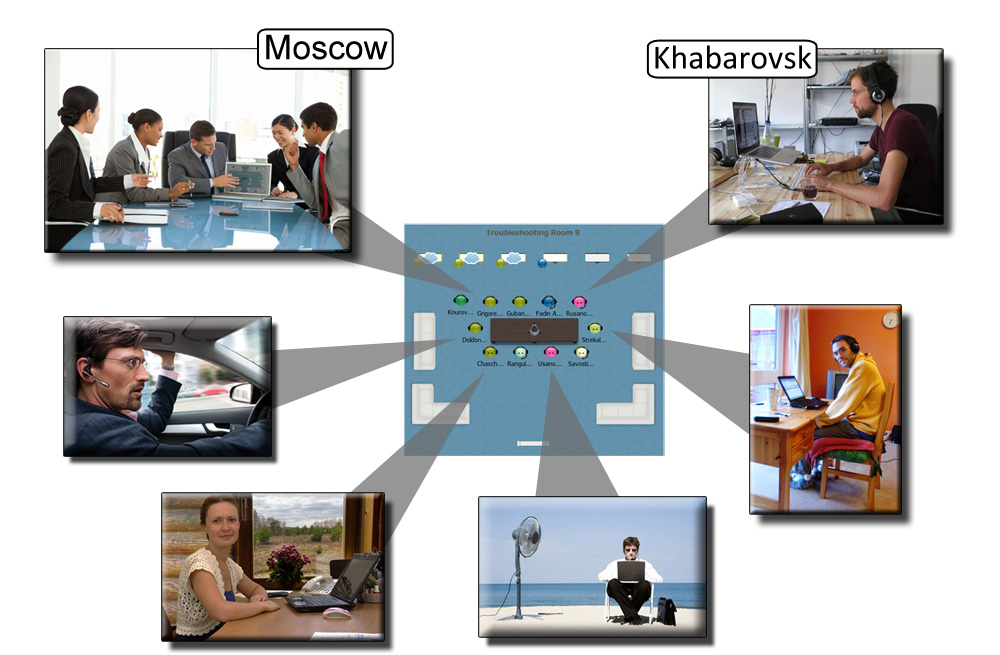 You can work remotely via the Internet from your home more effectively.
Virtual room for interactions
Rooms are the places for direct interaction: voice communication, video communication, chat, work with documents with the use of shared screens. There can be rooms of different size and purpose in your virtual office. You can have working offices, meeting rooms for different needs, "home" rooms for constant presence, halls (Lobby).
Visualisation
You can see all the staff, the location of their avatars, names, and who is talking to who. Build your interactions based on their condition and business. There is a convenient function to search for an employee by name.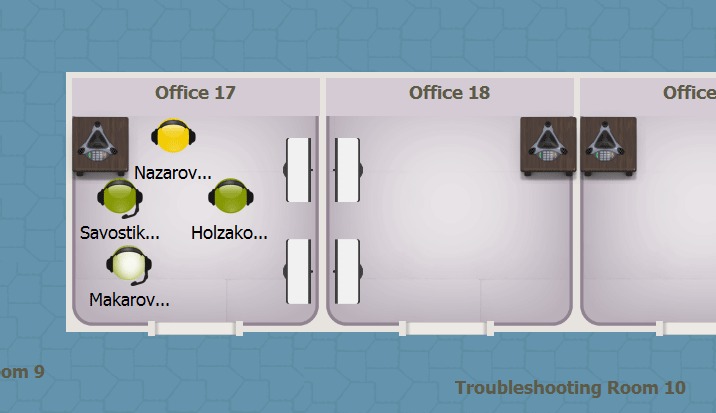 The transportation convenience and management of communication tools (1-2 clicks)
All movements between rooms and other participants invitations are done in 1-2 clicks. Intuitive control icons: headphones, microphone, camera, return to the "home" room - in 1-2 clicks.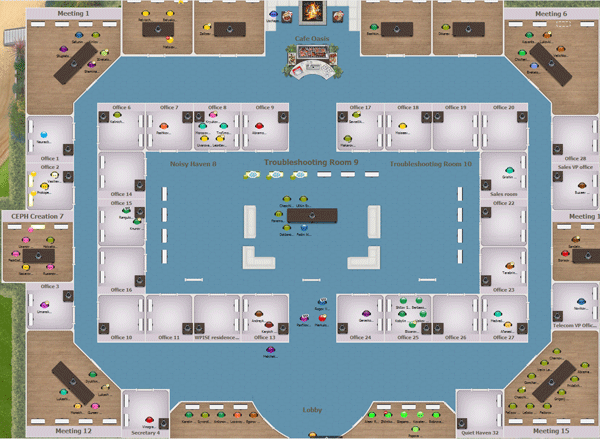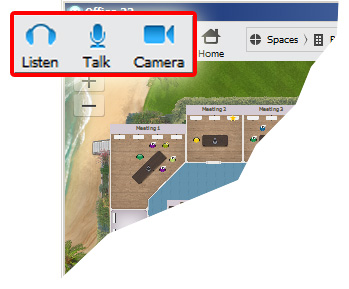 Voice communication
Just one click and you join the dialogue with colleagues in a single virtual room. Turn on headphones and microphone (all in one click) and start communication. No dials, no extension dialing.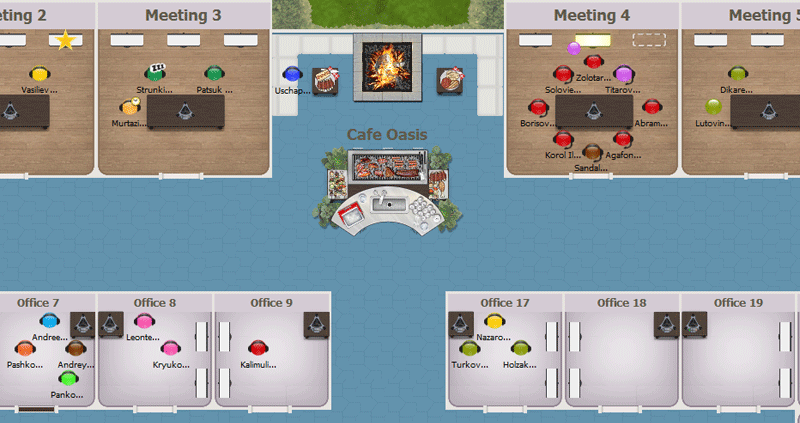 Informative staff avatars, activity status, personality (color)
Each employee can choose an individual color avatar with the name, visible to every employee in the space. On the right of the screen, there is a list of all employees in a special box (People mode).
Individual color avatars can be assigned to group of employees. If you zoom the working room, you will clearly see all the names of participants and types of their activity: listening, speaking, the video mode, looking at specific screen.

SOCOCO has more than 10 intuitive and visual status of avatars for each participant. There are statuses of presence and activity.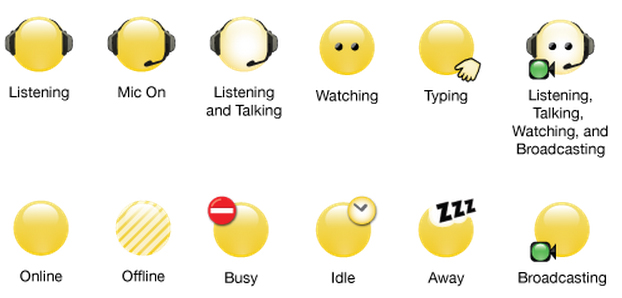 Zoom
You can zoom any point in the office, any room, any conference hall, using the mouse wheel or the zoom buttons (+/-) in the left part of the screen, which allows you to focus on what is happening in a particular room and to see the names and statuses of colleagues better. Or you can see an entire office with the participants activities.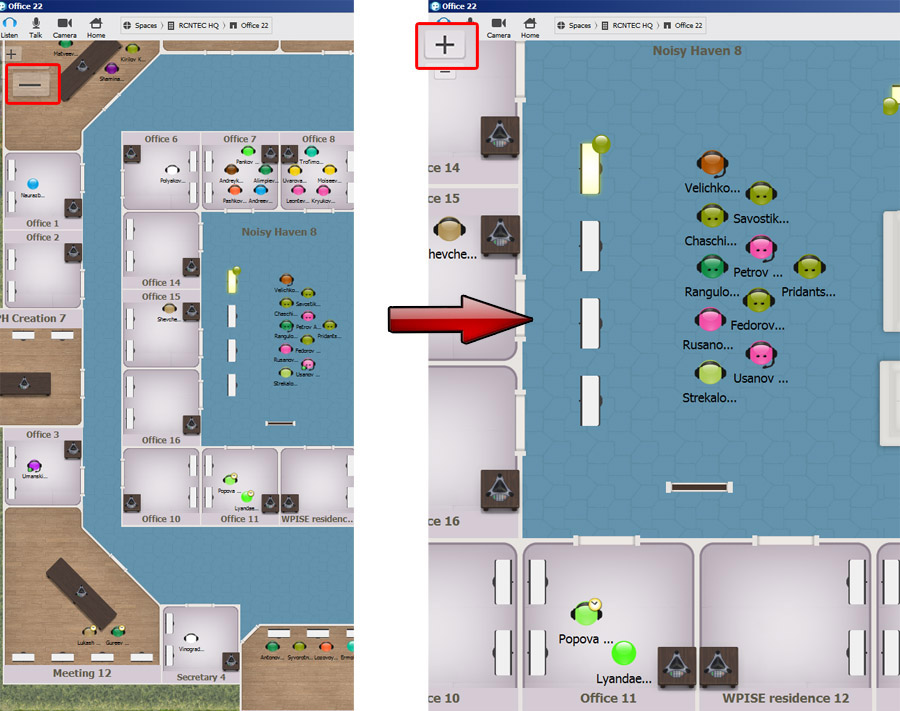 Awareness of locations and activities of colleagues
Colleagues from different areas can't see or hear each other, but can see the location and type of any activity in the office (with whom you communicate and how: video, audio, presentation screens, who is speaking at the moment).
The Manager can control the work of remote employees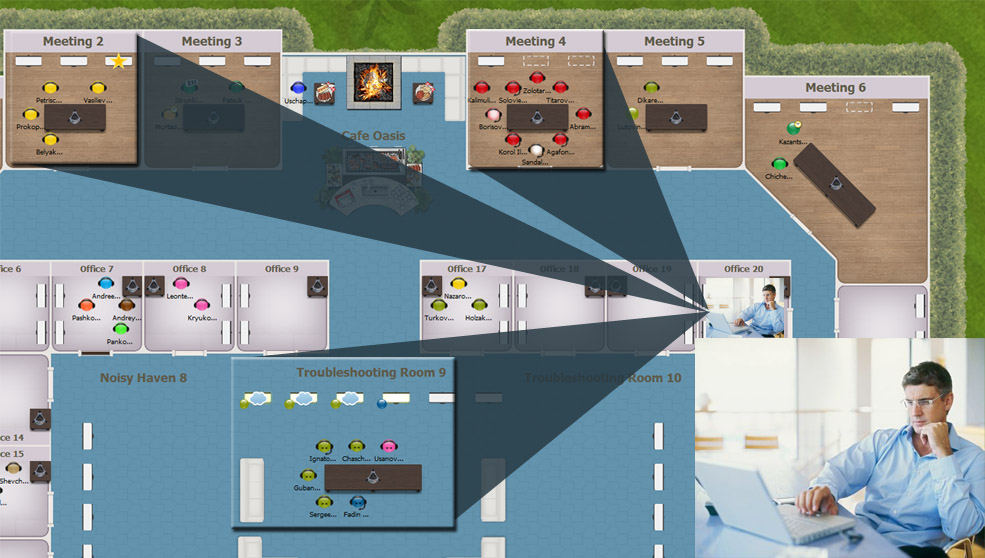 Video conference
Just activate your camera in one click, and everyone in the room will see you. Turn on your microphone and headphones. Ask your colleagues to do the same for the full video communication.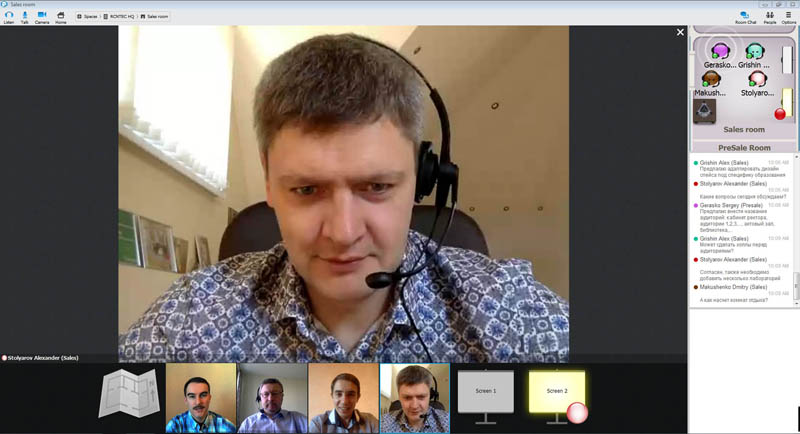 Messaging, personal and room (group) chat
You can share personal text messages with colleagues, even leave a message, when a colleague is offline. You can use chat room during communication, in order not to interrupt the speaker. All participants will see it. Message history is saved and available to all participants after you finish. Chat works even with poor quality Internet (Wi-Fi in public areas), you will always be able to correspond.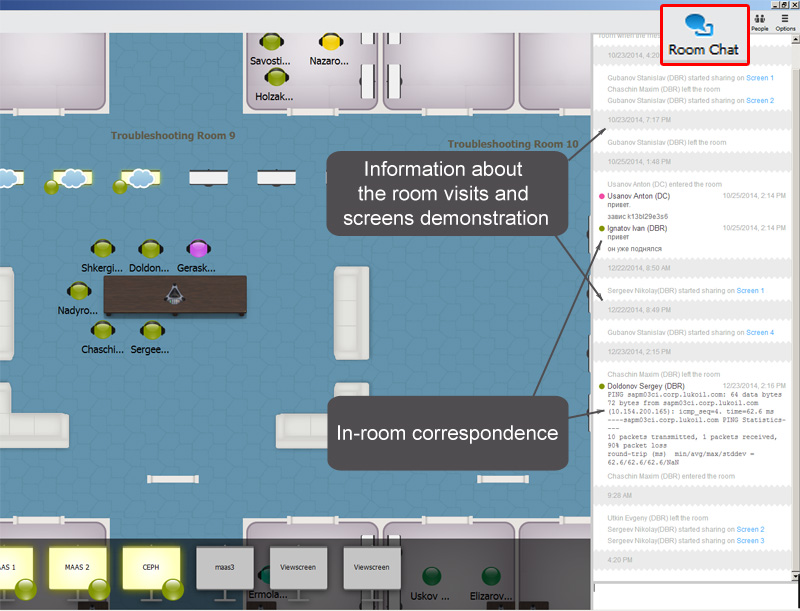 Screen and desktop sharing, joint work with documents, multiscreen
You can work with documents, images, desktops together with collegues. It is enough to display a desired image on the shared screen in 2-3 clicks, each participant with a "hand" cursor may indicate current location on the screen during the discussion. You can use several screens for one person, or each member of the meeting can use his own screen. You don't need to cede controls. You can stream the data of different monitoring processes on the screen.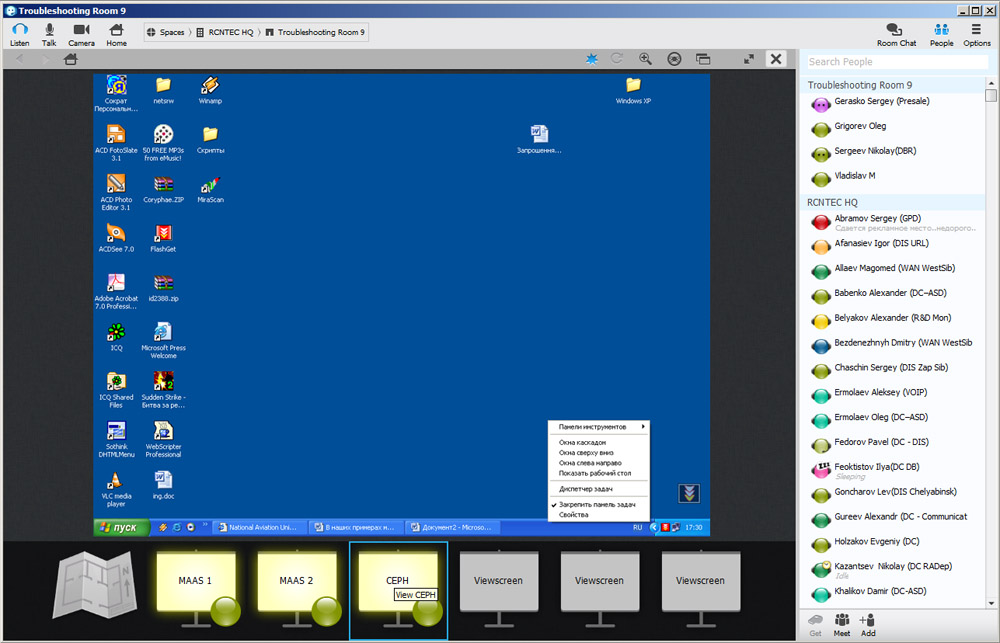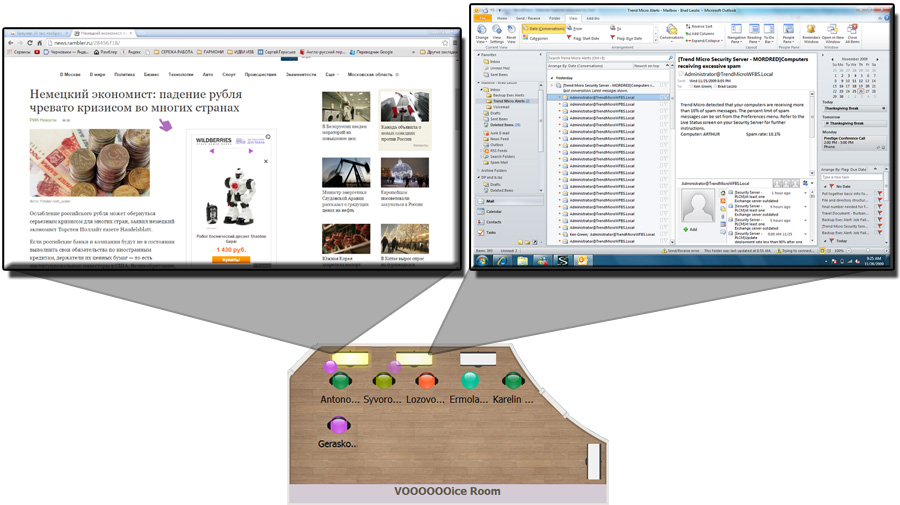 Holding of webinars and corporate training
Educate Your colleagues, demonstrate and discuss presentations.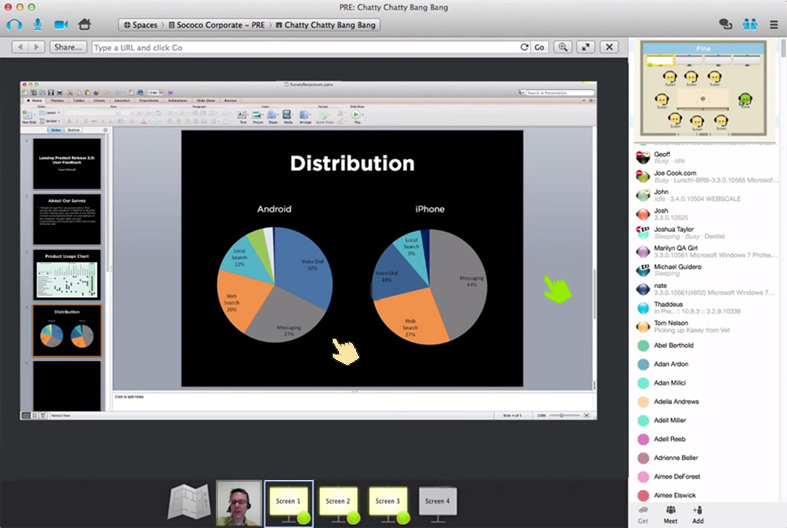 The virtual situational centres organization
You can easily set up a virtual dispatch room or service desk, display important information on screens and constantly monitor it.
Below you can see a fragment of the virtual representation of Central monitoring system on the screens of check information hotline in our company.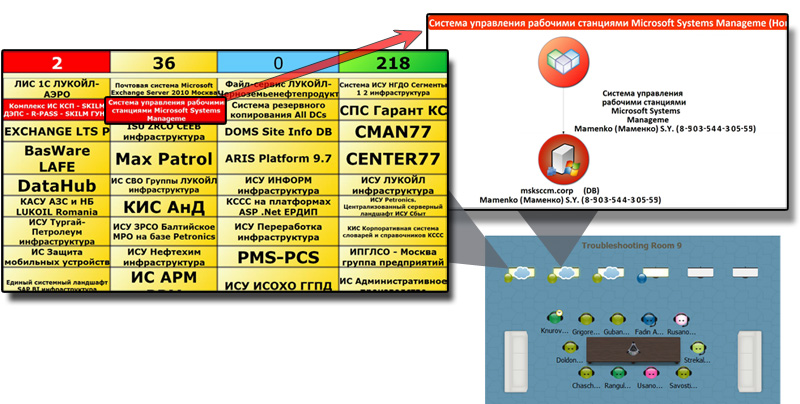 Individual design and arrangement of office
Shape your virtual office (space), choosing a suitable design for the number, location, functionality of spaces and room quantity in each of them. Give each room its name. You can use multiple spaces for different branches, switch easily between them.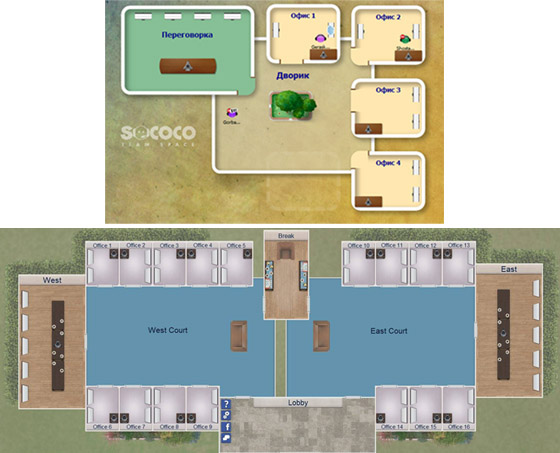 Safety
All the data exchanged between client and server (voice stream, video stream, chat, screensharing) are encrypted using AES scheme with a key length of 128 bits.
Multiplatform
Mac OS 10.6-10
Windows 7-10, XP
iOS
Try it yourself
Create a virtual office for your company right now.
The trial period lasts for 30 days. It is absolutely free.