Virtual office SOCOCO
Technology platform: SOCOCO
We offer you a tool for new generation communications — SOCOCO (Social Communication Company).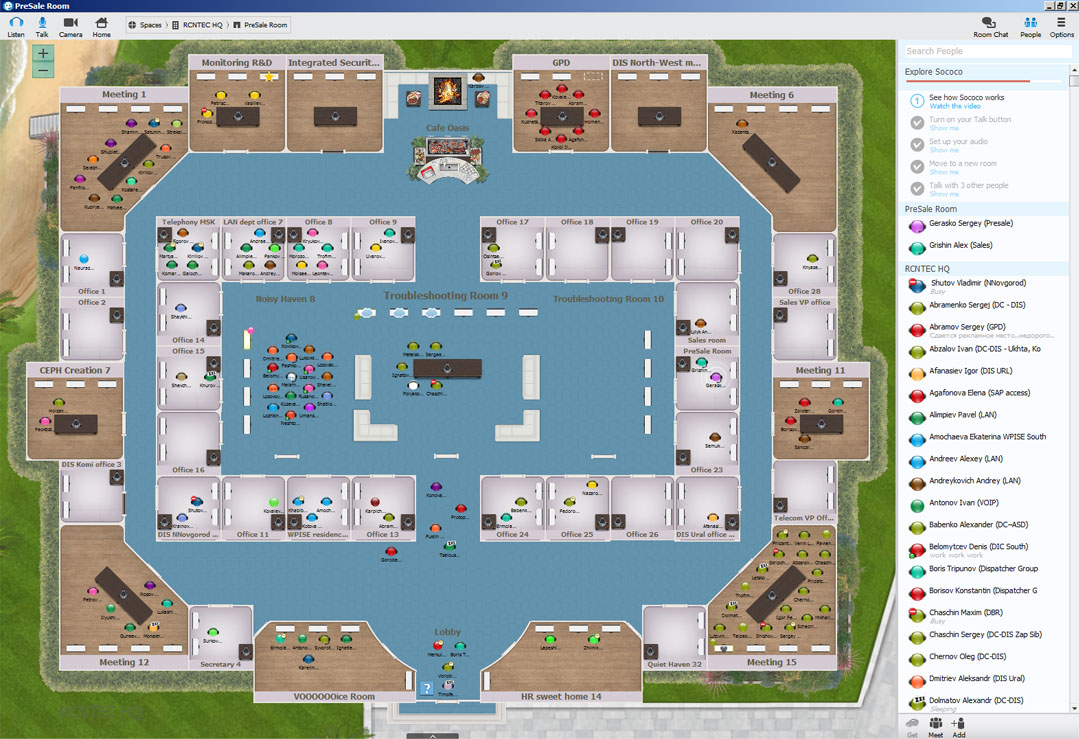 A virtual office is a unified visual working space, which graphically displays all Your company. With working offices, meeting rooms, conference rooms, where You can communicate with colleagues. You see the dynamic interaction in real-time and can actively participate in it.
We propose You a system that not only offers all the most advanced and modern tools for business communication, but in the most optimal and natural combination. The SOCOCO Unified Communications are represented in the form of cloud services.
No matter in what part of the country or world are staff located – virtual office creates a complete sense of presence and teamwork, speeds up and makes clear all the processes of business communication, unites Your team due to the visualization of the workspace (Space) and the awareness of the nature of the colleagues activities. It is enough to be connected to the Internet.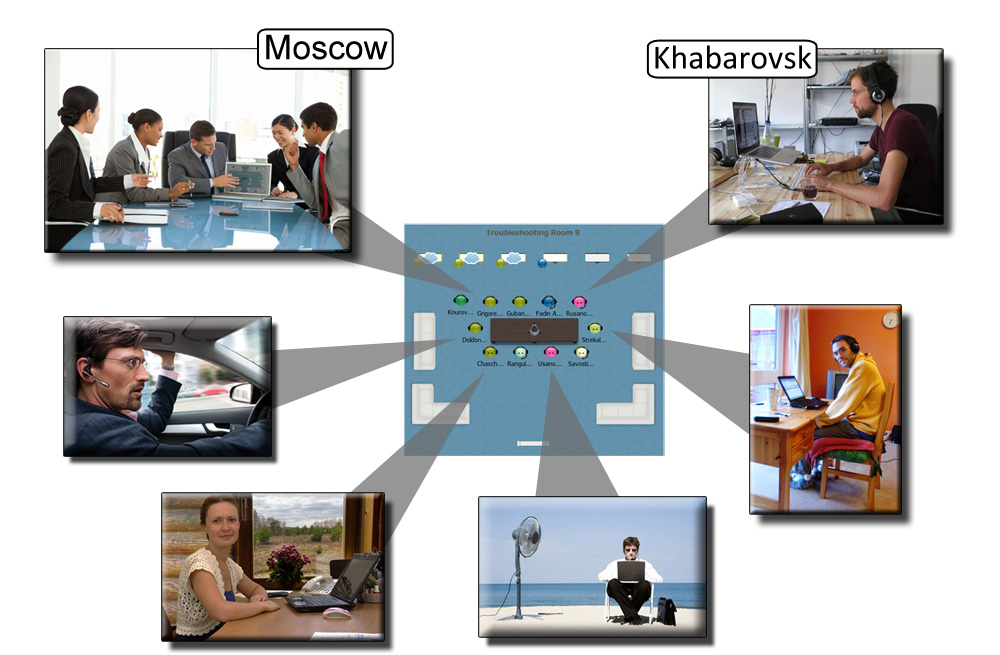 Main features
VISUALITY, ORIENTATION

You can see the whole virtual office (space) and all employees, their location in the virtual rooms. Use the search function to quickly find a colleague by name.

EASY CONTROLS AND MOVEMENTS

Select a room to communicate with colleagues, go into it, invite your colleagues and start communicating. All operations – just 1-2 clicks.

VOICE COMMUNICATION

Turn on headphones and microphone in 1 click and start talking. No dialing.

VIDEO COMMUNICATION

Turn on the camera in one click, let your colleagues do the same. Everyone will see You, and You will see them.

COMMUNICATIONS WITH COLLEAGUES AND CONFERENCES

Communicate with any colleague tête-à-tête confidentially in any room you choose. If necessary, invite other staff members and continue communicating together.

AVATARS

Choose a color avatar, and give it a name. Now any employee can easily find You. He sees your status, what You're doing, who You're with.

VIDEOCONFERENCE

Invite colleagues into the room. Turn on your headphones, a microphone and a camera in 1 click. Communicate in a videoconference mode and watch the live reaction of colleagues.

TRAINING AND PRESENTATIONS

Invite members to the room of a suitable size. Show them presentations and other materials. Teach them easily and conveniently. Use feedback with participants via voice or chat.

PRIVACY POLICY

Control participants visually in a virtual room via avatars and names. Close doors and block accesses to outsiders.

MULTISCREEN MODE

There is no need to pass the baton. All participants can communicate independently from each other and see multiple displays simultaneously.

PERSONAL CHAT AND ROOM CHAT

Write personal messages or communicate in a group chat. Chat always works even with low connection to the Internet.

ZOOM AND CONTROL

Use zoom to see the names of colleagues and their means of communication status - headphones, microphone, camera, who watches which screen during the meeting.

MOBILITY

Continue communication even on the road using Sococo for iPhone & iPad.

SAFETY

The security of Your communication is ensured by bank level means of encryption.
More about each feature you can see and read here.
The requirements for the operating system, hardware and the Internet
Mac OS 10.6-10
Windows 7-10, XP
iOS
For voice communication up to 10 people 512KB/s channel is enough.
For video conferencing for 10 people you will need - a PC or a mobile device, 1.8 GHz, 2 cores, and the Internet from 1 to 4 MB/s, 3G/4G(LTE).
The benefits and advantages for You
the interaction efficiency increase for companies with geographically distributed structure
savings on paying for urban and long-distance corporate negotiations
full remote (distant) collaboration from an apartment, a country house
savings on rent of office areas
reduced time spent on the way to the office and back into the cities
savings on travel costs
low exploitation costs and no setup costs read more
attracting the needed personnel from other regions
the use of fully remote work for certain staff categories
increase the effectiveness of Bitrix24 portals
effective remote control of business units and employees for managers
Price: 15$
low fixed price per active participant per month
weekly billing of active members read more
the benefits from the use of SOCOCO significantly cover the costs read more
Preliminary testing
We recommend to run a preliminary free testing of our service for 1 month.
Just leave a request on the website and within an hour You will get space for Your company.
Organize the real work of your business unit within SOCOCO, to evaluate the benefits of collaboration.
Twenty-four-hour technical support is waiting for You and wishes you success!