Virtual office, collaboration, cloud telephony communications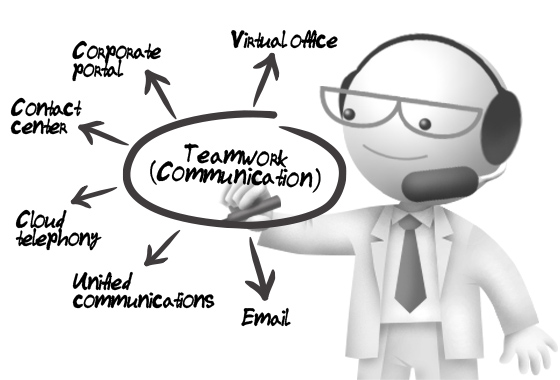 In current times the evolution of business communications continues - from office systems of classical last century telephony to unified communications based on IP technology and the Internet, including completely new forms of communication and services: ip telephony, teleconferencing, email, sms, chat, videoconferencing (VC), global communication networks like Skype, online portals, selector communication systems, contact centers, webinars.
People used to communicate using landline and mobile phone, now they use personal computers, smartphones, ip phones, laptops and tablets for this purpose.
Modern integrated communication systems include several communication types and support different kinds of user devices.
RCNTEC offers its customers a wide range of technological solutions and products.
Technological platform: SOCOCO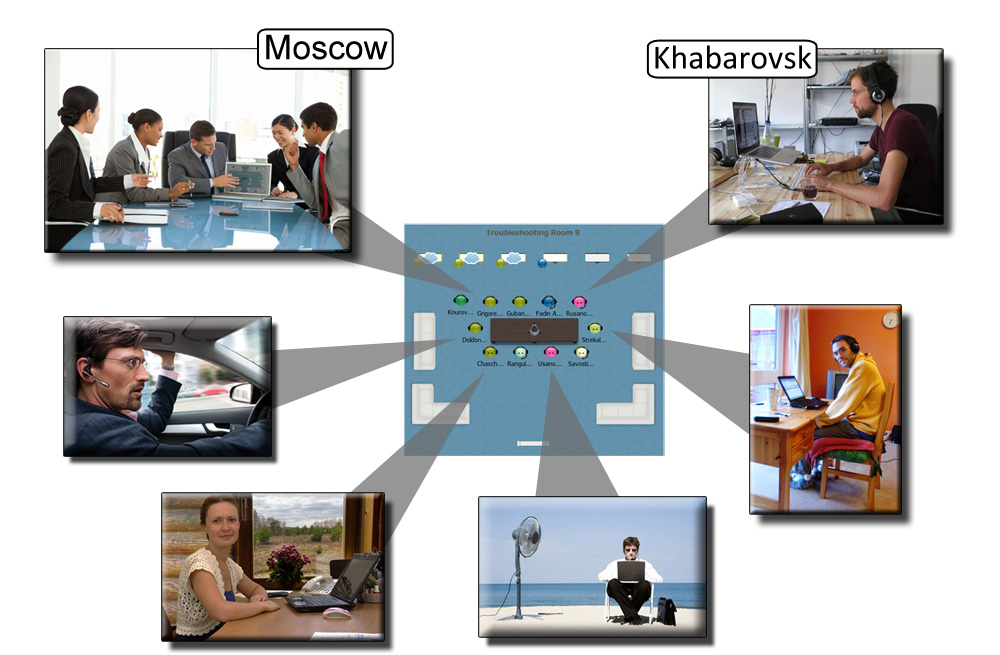 Features:
display image of the virtual office of the company
the use of working rooms and meeting rooms of different capacities
display the location of staff in the rooms
live video communication and emotional connection with the team
quick gathering of participants, invitations
join a conversation with colleagues in 1-2 clicks
instant messaging, chat
full control over attendance modes: headphones, microphone, video-view
work in SOCOCO using mobile devices
multiscreen - the ability of participants to independently demonstrate and see several screens simultaneously
safe communication secured by bank level means of encryption
Benefits for you:
You reduce (or even nullify) the cost of renting a real office. You and your colleagues work more and rest more at the same time. You make your contribution to traffic jam reduction in Metropolitan areas. You use your lifetime more effectively, and thus can earn more. You are in constant contact with colleagues and don't need phone calls. You save time and money on business trips.
Technology platform: Bitrix24
The standard features of Bitrix24 "out of box":
the system of goal setting and management
information about employees and types of communication
indication of presence
messaging, chat
planning of meetings and reservation of meeting rooms
internal communications (like social networks)
Additional features from RCNTEC:
When we started using this product, we immediately saw great values of Bitrix24! But still, we found some disadvantages. We have improved the "bottlenecks" and now it is much easier to work in it!
Benefits for you:
We offer you to increase the efficiency and convenience of your business with minimum cost and effort. Just start using our cloud solution for the Enterprise portal - Global office.
Using a corporate portal, you greatly increase the effectiveness of teamwork. You replace an unstructured communication through e-mails with collaborative work on tasks, effective and clear for everyone. You always know what your employees are doing. Without any additional efforts you create knowledge base of your company, just using the portal. You have a real opportunity to eradicate paper flow.
If you purchase a Corporate portal - a Global office in RCNTEC, we are ready to provide you with our know-how experience as a bonus.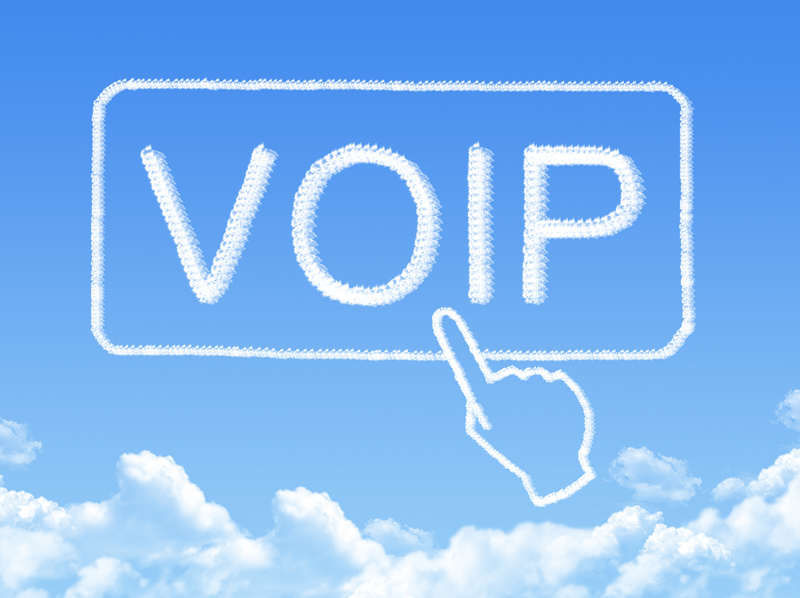 Technology platform: BroadWorks by BroadSoft Inc., 5th class SoftSwitch.
Now in service: 7 900 subscribers
This software suite provides:
developing and building of corporate telephone networks, which unite the central office and regional/remote branches into a single digital space
telephone penetration into distributed network facilities (petrol stations, shops, pharmacies, etc.)
wireless communication systems based on DECT
the use of mobile phone (GSM, CDMA) as part of the corporate telephony
Benefits for you:
Modern corporate communication system with a complete set of services, integration with other communication systems, support of branches and distributed network units. Support of subscribers mobility.

Technology platform: the Microsoft Exchange mail system
Now in service: 36000 mailboxes (addresses)
We offer you to take advantage of Cloud e-mail System service, that has become classics in corporate environment, sharing of information and documents via the Internet.
The features and benefits of mail embodiment in RCNTEC:
we will help you to choose, register and maintain your e-mail domains
your mail will be disposed in 3 independent Data Processing Centers: even the malfunction of 2 data centers will only cause a brief interruption in the service
this software suite provides guaranteed fail-safety and operational continuity
The Always ON replication technology
mail databases backup with the use of the online snapshot technology
the ability to restore any mailbox at a granular level allows you to practically exclude the loss of any mail message
spam protection
virus protection
Data Leak Protection
service from a company with 15 years of experience in support of tens of thousands of e-mail clients
24-hour system maintenance with the help of Resilient Cloud Monitoring и Quick Response Department
24-hour tech support for users by United Dispatch Service
Benefits for you:
modern e-mail system for corporate work
spam protection
virus protection
data leak protection
corporate address book organization
can be integrated with other communication systems, for example, Microsoft Lync
mail client support on smartphones and tablets
service from a company with 15 years of experience in support of tens of thousands of customers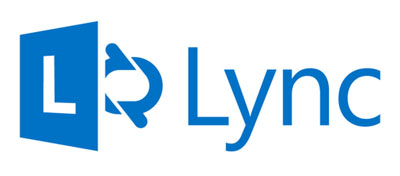 Technology platform: Unified Communication Microsoft Lync
Now in service: 11 000 subscribers
We offer you the Unified Communication Microsoft Lync as a cloud service.
Features and benefits of implementing solutions based on Microsoft Lync:
the solution provides fail-safety and operational continuity of service due to MS Lync pool redundancy
MS Lync is located in 3 independent Data Centers, so even 2 data centers malfunction will only cause a brief interruption in the service
24-hour system maintenance with the help of Resilient cloud monitoring and Quick response department
24-hour tech support for users by United Dispatch Service
Benefits for you:
modern unified communication system for organizations
increases efficiency of teamwork
can be integrated with external communication systems
mobile client support on smartphones and tablets
service from the company with 5 years of service and 11 000 Lync subscribers
Statistics: 700 000 handled calls (2014)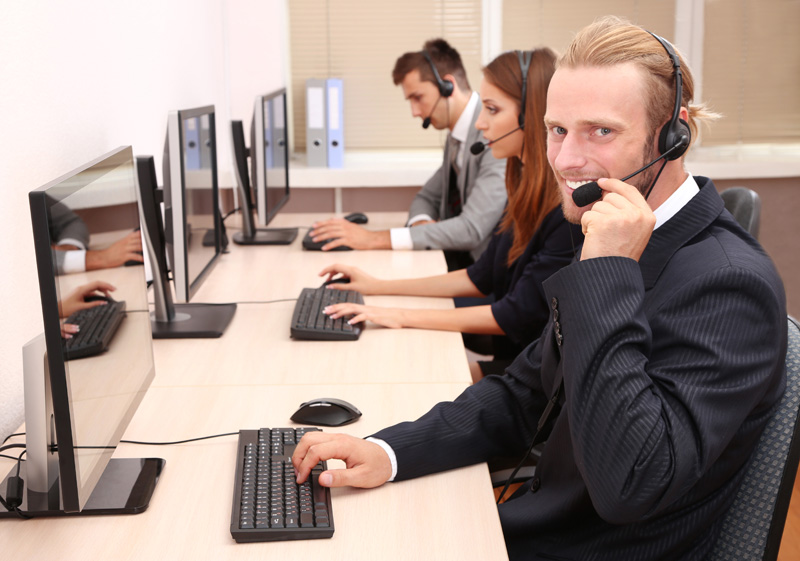 Features:
can function as a call-center
support for CRM client database
providing communication with customers throuh:

landline telephone number
common number 8-800-…
e-mail
sms
skype
fax
the site call (WebRTC)

you can choose a good looking number of almost any country of the world (8-800-222-22-22 (Russia), +1-800-MY-DREAM (USA, Canada), +49-69-123-4567 (Germany), +44-800-123-4567 (UK))
provisioning of the local presence visibility (through the use of local phone numbers) in the cities and the countries where your customers are located
performing the function of the client request pre-processing, before sending it to helpdesk
you choose the means of communication: browser, phone
analysis and adjustment to the client
Benefits for you:
You get an opportunity to handle your customer calls without any investment costs. To start using the Contact centre service, it is enough to go to the site without installing additional applications. You get full access to an operator workplace from anywhere in the world. You get an opportunity to interact with your customer across all communication links.
Online service of new and existing customer requests on all modern communication channels. Providing of quality work of the application service desk.
We are glad to introduce the cloud service of online learning and course testing - Resilient Cloud COURSEWARE. This cloud solution tackles three main tasks:
it improves efficiency of training and reduce its time expenses
it allows to examine the acquired knowledge
it saves time and money on training and validation of knowledge
Our solution has simple and intuitive interface. An employer enables to obtain all necessary data and reports about learning process and test results. By using our service, you will be able to train on your own program and verify the acquired knowledge according to criteria that you require. Read more...