Resilient Cloud Wireless Access Service (RCWAS)
In the modern world, network access is a necessary condition for the success of your business, and wireless network access makes workplaces mobile and saves money on your office communications. However, the wireless network is potentially more vulnerable transfer medium than the wired network.
Due to the fact that publicly available wireless networks become more widespread, there are new legislation introduced, regulating access to such networks. There is a decree by the Government of Russian Federation from 31.07.2014 No. 758, which regulates the provision of universal services of data transmission and provision of access to the Internet with the use of points of collective access for the operators. Currently, these services can be provided by an operator only after the user authentication, which requires the establishment of surname, name of the user, with registration of the amount and time of service delivery.
All these details must be stored by the operator of universal service for at least 6 months.
Storing an identification of user lists with all necessary information directly in the database of the network devices for such a long time, as well as quick and convenient access to such information, is impossible in most cases.
In this regard, we developed RCWAS (Resilient Cloud Wireless Access Service).
Our system was originally built as a horizontally scalable. Today you have 1 access point, and tomorrow - 100 branches across the country. With our service you don't have to change or reconfigure the system, you can just add access points.
The system also has a simple and intuitive interface.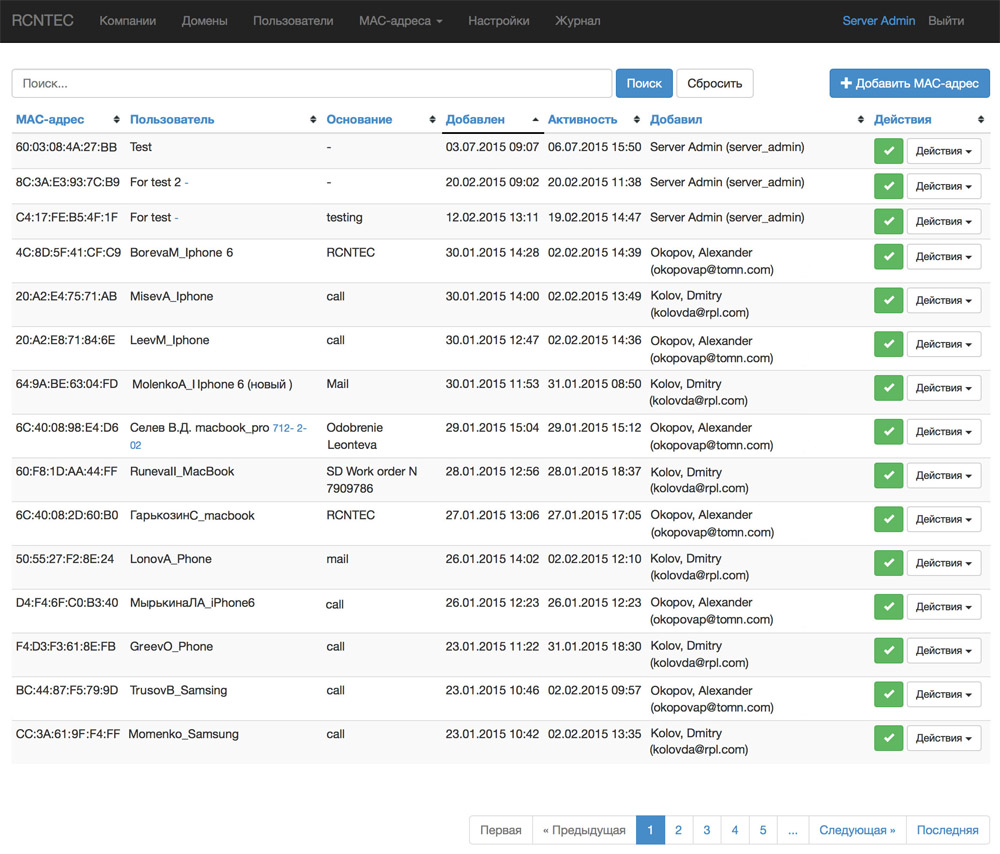 Resilient Cloud Wireless Access Service provides the following opportunities:
store identification lists of MAC addresses of devices with all necessary information
easy viewing, sorting and filtering of MAC addresses
maintain detailed log of all actions in the system
manage LDAP domains, users of which may have access to the system
implement centralized user authorization using a Radius servers
use convenient web interface for administration
the system is horizontally scalable
great for public places
The "boxed" solution is also available. In this case, the server is located in the customer's place and can function completely independently, storing the ID of the user lists in their own database.
RCWAS registration certificate