Resilient Contact Center
RCNTEC presents the modern solution - Resilient Contact Centre (RCC) which will help to grow your business, drive revenues and serve your customers better.
Before we tackle service description, let us first define a value of contact centre for your company in the context of today's market economy.
When you have a unique product or service, requiring hotline, or you offer outsourcing in the new area, you would be interested to seize market opportunities that might otherwise have been lost.
When an advertising campaign for your product (service) is ready, sales office is willing to take orders and to merchandise it, you should be looking forward to inform potential customers about the appearance of unique solution, which would allow them to receive additional benefits and increase efficiency. The question is how to build better and more personal relationships with customers without losses and drive revenues.
Previously, companies were satisfied with multi-channel numbers, so called simple Call-centres which were included in most modern IP-telephony platforms. They also could invest in the Call-centre software, and integrate it with their PBX. Algorithms of Call-centre and operators allowed flexibility in handling telephone inquiries and transmit completed orders in sales service.
But nowadays this is not enough. People are constantly involved in all types of communications, using laptops, smartphones, tablets. They are highly mobile, with help of Skype and social networks. These clients expect service on their terms. It is much easier to make request for certain product or service while surfing the internet, using channels of modern communication they are comfortable with, such as: e-mail, Skype, messages, chat, interactive window on your website. By bringing them all together in one place contact centre improves the ability of Call-centre for today's connected world.
It should be added that the Contact Centre is integrated with customer database. It uses new speech technology and constantly progresses as well.
There exist online stores that have fully automated cycle of Internet sales.
But innovative products, services and complex solutions require an agent-consultant, who is ready to respond to the customer at mostly convenient communication channel, efficiently process the request and send it to sales service or to support team.
That is exactly what our Resilient Contact Centre is ready to provide.
Large companies, telecom operators can purchase the necessary equipment and software. Their Contact centres are always load.
The problem appears for small and medium-sized enterprises, when they need to bring a new product to the market, "break the bank", while competitors do not come to their senses. The same concerns companies, who want to start to provide new service to customers, even when such need for them is not linear. At the stage of active advertising campaign, business needs maximum output (maximum number of calls and agents), but when it comes to presales and support, it can be easily reduced.
The optimal solution is to take advantage of complete outsourced contact centre in the certain period and to the necessary extent. So by the end of the peak of sales you keep the minimum required volume of the service and prepare new products for the market.
RCNTEC is willing to provide such service, based on the most advanced solutions in the field. Find out more about the enormous capabilities of the Contact Centre.
The scheme of Resilient Contact Centre solution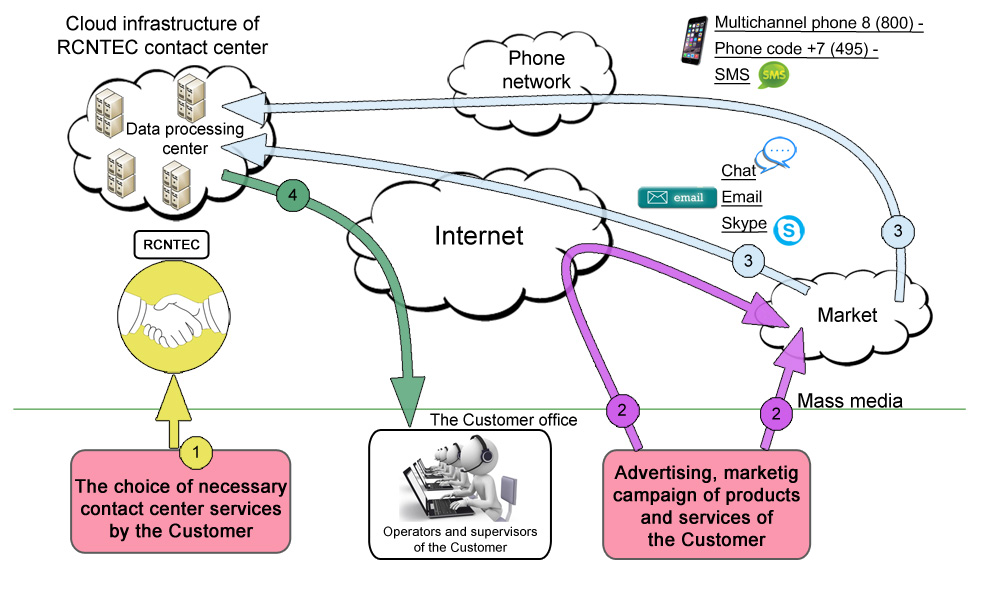 The description of scheme of Resilient Contact Centre solution
1) Before start using Contact Centre solution it is necessary to define the level of service. There is also possibility to chose additional functionality such as:
"beautiful" number of almost every country in the world (8-800-222-22-22 (Russia), +1-800-MY-DREAM (US, Canada), +49-69-123-4567 (Germany), +44-800-123-4567 (UK))
visibility of local presence (by using local phone numbers) in the cities and countries where your customers are
multiple call scenarios
определение принадлежности операторов и супервизоров (аутсорсинг или собственные)
услуга "backup Call-centre" (dynamic call transfer to a third party operators in the event of force majeure)
fax service
interactive chat
agents
and etc.
2) The customer, interested in promoting his products and services on market, should run an advertising campaign in the Internet and media.
3) The clients, interested in this offer, address themselves, using telephone and electronic communication (chat, e-mail, Skype, sms). All requests received and proceed by executive's Contact Centre (implemented as a cloud-based data centre structure).
4) Group of agents and supervisors of the Customer receive already proceed requests.
If you want to receive and handle calls both efficiently and conveniently, for you and for your clients, and forget upfront investments in hardware and software systems. If you want to scale service up or down as you need it and to analyse the weaknesses in all areas of the business process and be able to quickly correct them?
RCNTEC offers you cloud-based solution of next generation - Resilient Contact Centre.
All you need - is to be connected to the Internet.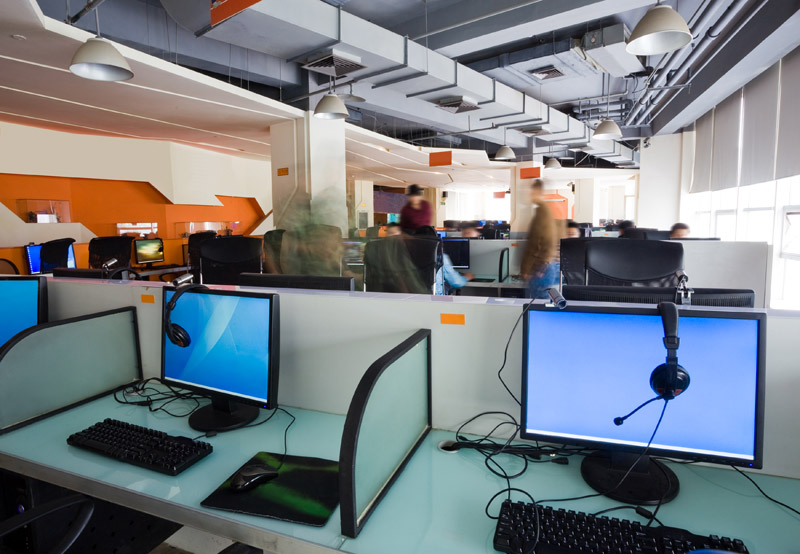 Complete deployment of you Contact Centre is just in 30 minutes!