MRT-1327 ACTIONET trunking system
MRT-1327 ACTIONET trunking system by NOKIA is one of the most popular ones in the world of trunked radio communication systems, is popular among wide range of users operating in various industries. Today more than 130 systems in over 40 countries are created and work effectively.
The range of use of the system is constantly expanding and in addition to commercial systems subscribers, users of gas, water and power services, oil and gas and timber industries, all the benefits of a professional mobile communication Protocol MPT-1327 can evaluate transport companies, railways and subways, ground services of airports.
Opportunities provided to subscribers
MPT 1327 protocol systems are built with a dedicated control channel, which is used as one of the channels of the base station. Commands and some data can be transmitted in a digital form on this channel. The other channels of the base station are the working channels and are intended for voice communication radio subscribers and free-length data.
ACTIONET was first among the systems of MPT 1327 protocol which received a certificate of the Ministry of communications of Russia. The requirements for trunking systems with the telephone network of general use were the presence of the direct city phone number and a duplex communication mode. It supports the new protocols of digital telephony and allows you to perform all kinds of connections in automatic mode.
In case if the use of digital communication channels is impossible, there are other variants of connection with analog lines (for example, 3-wire), and then multiplexers are used.
Twins (Unauthorized subscribers)
The problem of any communication system commercial use are the "twins". To fight the twins MPT 1327 systems can enable verification of electronic serial numbers. Each manufacturer of terminal equipment captures the phone's unique electronic serial number that cannot be changed. When registering the radiotelephone in addition to the identification number, the system requests another electronic serial number, which allows you to increase the security of your system by several times.
Additional features
the operator of ACTIONET system has the additional ability to manage the schedule in his network, some of them may be provided for a fee that will allow you to earn extra income.

assigning calls to queue. In the absence of free radio channels or connecting lines of the telephone network, the call can be queued and the caller will be notified by a special tone signal. Once the requested resouse is free, the connection is established automatically.

management of call duration. There are flexible options to manage the duration of your call depending on time of day and system load.

voicemail. If the subscriber is unavailable, a voicemail can be forwarded to his voice mailbox.

long or short information messages. For certain groups of subscribers (courier and transport companies) the importance may be in standard status messages which are transmitted on pilot channel without occupying the voice channel. The digital value can mean an "arrival at the destination point", "free" or "awaiting orders".

modem calls. When installed in a subscriber station of AL-72 teleadapter, an ordinary modem can be used for data transmission. Because modem calls are included in a separate group, the duration and direction of call can be set for them.

group calls. These calls allow using a single radio base station to communicate with a group of a few tens or hundreds of subscribers, which is very convenient for operational management of enterprises departments and organizations. A taxi can use this benefit, for example, to speed up service and reduce idle run of transport.

dispatcher consoles. Organizations may be offered rendered dispatcher consoles, which will allow the manager to quickly organize temporary groups, specializing in certain operations, such as ensuring smooth delivery of concrete to various building yards.
User equipment
A wide range of user devices is developed for ACTIONET systems. Cordless phones R-72 can be used in portable, automotive and stationary versions. In stationary and automotive versions they are powered up to 10 watts, portable transmitter output power is limited by the capacity of the battery and is selected from the range of values of 0.15, 1.5, and 5 watts. There is an automatic adjustment of the transmitter power depending on the signal level of the control channel of the base station to increase the battery life without recharging.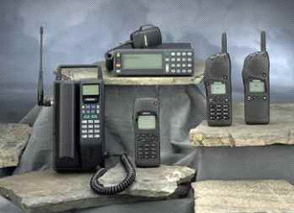 As a rule, customers prefer portable user terminals. In this case, you may be offered a full featured models Н85 and Н70. Organizations, using the services of ACTIONET operators to meet the needs for technological connection, can use the portable N75 with call limitations. These terminals are available in duplex (1 W) or half duplex (4 W) mode.
With the wide range of terminals and accessories for them, you should prefer automotive/stationary versions. The use of low-power user terminals will require an increase in the number of base stations to provide reliable coverage area, which will lead to additional costs. Generally, this type of cordless subscribers are interested in trying to find a cheaper mobile network. And then a direct competition with the city operator in tariffs and connection quality begins. However, this can be avoided at the initial stage, covering a greater area of reliable communications that will attract more subscribers, such as drivers of official and private transport. This also contributes to installation of telephones to remote objects. The increase in the number of base stations in the area of urban development should be made at the following stages of development after the calculations of economic efficiency.
Reliability and exloitation
Another important factor is ease of use. If the operational condition of the system requires daily preventive maintenance and emergency repairs at night, it's hardly a pleasure for technical staff. We should not talk about the need for regular control measurements of working parameters of the output stages and the antenna-feeder paths for diagnostics of the equipment.
What would you say about a system that in real time would inform you itself about the faults and deviations of operating parameters from the nominal values? All functional blocks of the ACTIONET system has a built-in self-diagnostics of power supply, output power, SWR, temperature, interconnect links. A separate block in the switch handles all the received messages and sends alarm conditions, failures and change of settings in Russian language, printing the date, time and block number to the system printer. Frequent reports of surges in the power supply or loss of power at the output of the transmitter will allow to carry out preventive maintenance before it will fail in the hour of the highest load. The sudden change in SWR will turn off the antennas of the base station transmitters that will save your system from overload of output stages and would not lead to following repair.