Resilient telephony gateway Resilient Sip Box

Hardware-software complex Resilient Sip Box (RSB) - VOIP Application Layer Gateway – effective, high-performance device, designed to provide telephone communication to remote objects in case of accidents on data transmission channels of infrastructures with the use of IP PBXs from different manufacturers.

Key benefits:

fail-safety and routing flexibility
no need to configure the local dial plan (if you work as part of Broadworks)
communication channel quality control
support of the basic network services
provides VPN services
supports secured connections TLS/SRTP
tools for diagnostics
connection to PSTN
CDR generation
Exploitation
RSB provides a basic set of phone services (CALL TRANSFER, HOLD, N-WAY CONFERENCE, MOH), as well as connection to the PSTN. Flexible routing settings allow you to configure access to PSTN directions in case of IP PBX unavailability, and the generation of CDR will allow to bill for the completed calls correctly. The device provides up to 200 simultaneous calls at the moment when IP PBX is unavailable.
Intelligent call routing
The mechanisms of the communication channel quality control allow you to automatically redirect the SIP traffic to the alternative SIP Proxy or Voice Gateway. The administrator can configure up to 255 different destinations, controlling the timers and thresholds of switching between routes. It does not require any configuration of subscriber devices, and the switching occurs without any interruption of communications clear to the subscriber.
Monitoring, analysis and troubleshooting
RSB is equipped with network connectivity diagnostics, which enables it to collect traffic using the tcpdump tool and storing it on a local flash drive for further analysis. Also, there is the required access to the statistical information that RSB uses to interact with the SIP servers. The SNMP protocol support enables RSB to be connected to the monitoring systems.
Additional features
RSB allows to localize the mechanisms of subscriber devices provisioning in order to save bandwidth on WAN channels. For this purpose, a local flash drive is used and protocols FTP/TFTP are supported. RSB also provides DHCP, DNS and NTP services. These functions allow to localize everything you need on RSB to operate IP telephony services, freeing network equipment from non-typical functions.
Security
RSB, in order to improve connections security, can act as a VPN server that can be connected to subscriber devices (PPTP) or which can be connected a higher-level VPN server (L2TP).
Besides, RSB also provides protection for SIP connections using the TLS/SRTP protocols.
Fail-safety
RSB provides work in a clustered configuration, while switching between cluster nodes is carried out without interrupting the ongoing conversations. Also it is possible to replace the system software of RSB without service interruption in cluster mode.
The network connection scheme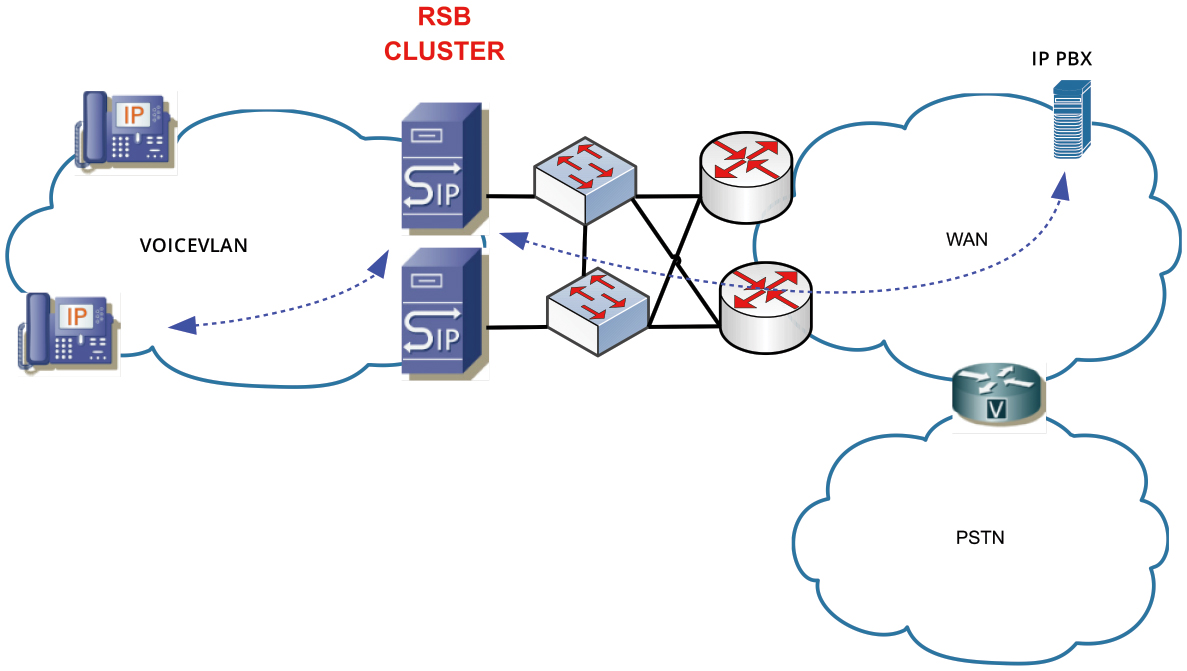 License
| | |
| --- | --- |
| Product | License |
| Resilient SIP Box | 30 sessions, include Basic Support. |
Registration certificate of Resilient Sip Box software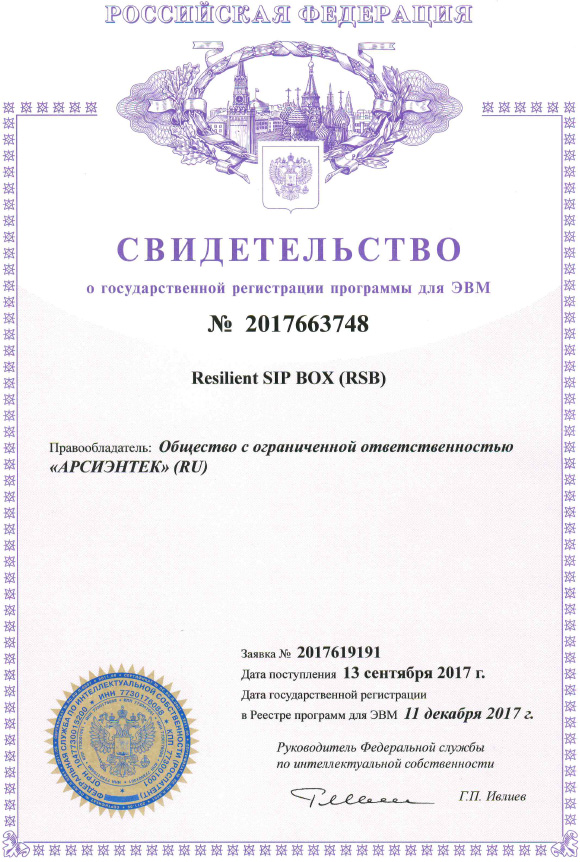 Pre-order / Feedback