RPCMs in Las Vegas!
RCNTEC is extremely happy to announce that the Smartest PDUs in the world for Mining – RPCMs will be displayed at World Crypto Conference "Vegas Blockchain Week 2019" on 30-31 October, Las Vegas, NV at Coin Miner's M4 booth!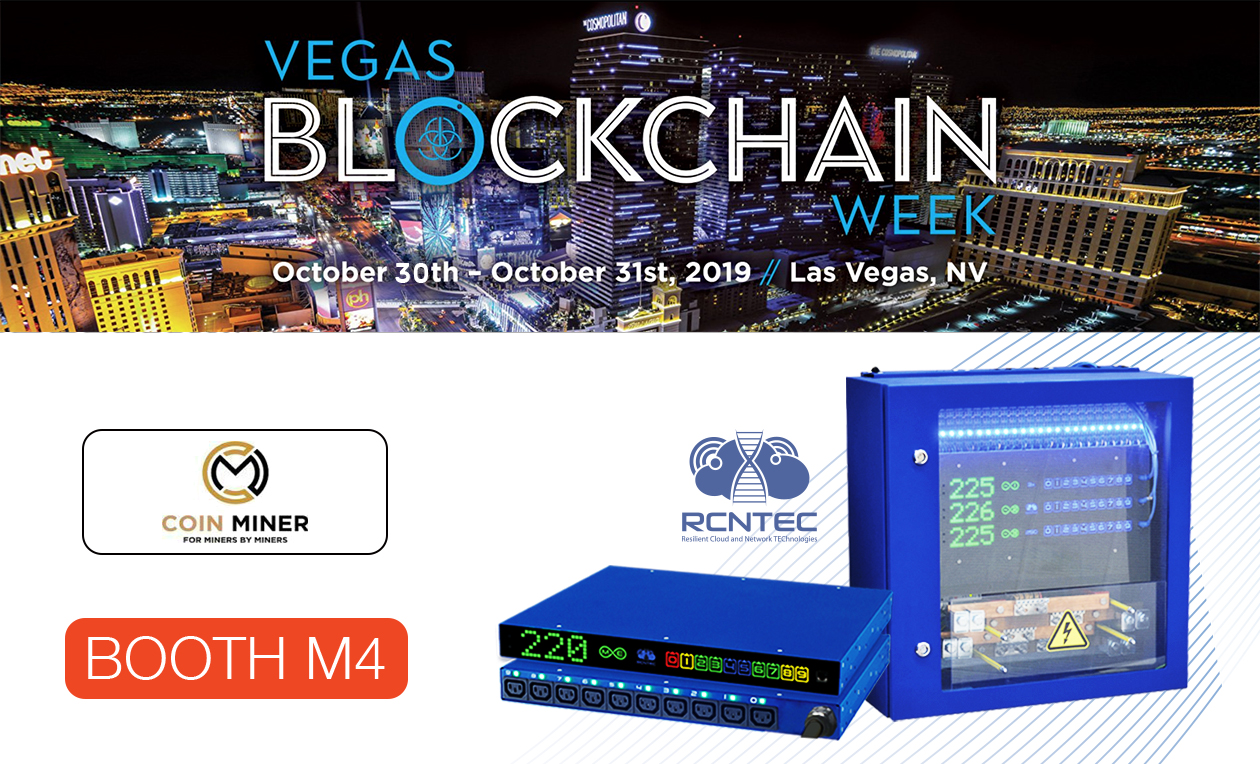 "Coin Miner is excited to be working as the exclusive RPCM North American distributor. Starting first as a customer, Coin Miner quickly realized that the RPCM product line was by far the most efficient and feature rich PDU to be introduced to the blockchain mining industry to date. In Coin Miners New York facility the RPCM ME has been running flawlessly for over 1.5 years and given the team the ability to remotely manage their miners and set watchdogs in place to ensure maximized uptime. The Coin Miner team will be at WCC in October at our booth with the the RPCM 3x250 and the ME on display and ready to answer questions and take orders." - said Hayden Gill, Co-Founder and CEO of Coin Miner LLC.
"Coin Miner is in crypto mining business since 2013 - these guys are one of the most experienced folks in the crypto mining industry in North America and have organized and sourced many very large deployments. RCNTEC is truly proud to have RPCM Smart PDUs mining line-up represented by Coin Miner at WCC in Las Vegas. Together with Coin Miner team we strive to help customers in North America to build smartest mining setups that help customers significantly reduce labor costs with best in industry monitoring, control and automation features." - commented Dennis Neshtoon, Co-founder and CEO of RCNTEC.
RPCM Smart PDUs are purpose designed for mining operations with all the functionality expected from power distribution infrastructure and more. RPCMs combine:
- remote power control
- per channel metering
- per channel overcurrent protection
- per channel short circuit isolation
- HASHRATE WATCHDOGS to automatically keep mining hashrates at maximum desired levels by restarting hung miners or miners with hung asic chips
- protection from in-rush currents
- grounding control
- REST API/SNMP support for integration into centralized monitoring and control systems
- Web/SSH interfaces for manual remote control and configuration
- remote indication to ease co-operation of centralized teams and field teams RPCM ME allows per miner control for 10xS9.
RPCM 3x250 is the highest power capacity Smart PDU offering up to 180KVA allowing to power up to 90xS9 or 60xS17 from a single PDU.
RPCM 3x250 and RPCM ME will be presented at the booth M4 of RCNTEC's distribution partner in North America - Coin Miner LLC.
RPCM Smart PDUs are available for order in North America at https://coinminer.com/equipment/PDU.
Coin Miner LLC is the world's largest cryptocurrency mining hardware retailer, operating out of Lakewood, Ohio, USA. They are industry leaders in the sales of cryptocurrency mining hardware, power infrastructure, and mobile data centers custom-built to mine cryptocurrency for there esteemed clients who are based all over the world.
RCNTEC designs and manufactures the Smartest PDUs in the World - RPCMs. RPCMs are used by a multitude of industries to increase uptime, decrease downtime and make operations more efficient. RPCM ME and RPCM 3x250 were the first Smart PDUs in the world purpose designed for mining operations with introduction of Hashrate Watchdogs integrated into PDU functionality.
Press Center, RCNTEC
Marina Krylova,
Lead PR Manager,
+7 (495) 009 87 87,
+7 (915) 410 60 49