RPCM Software 0.7.1 - new possibilities! Discounts until the end of April 2018!
Dear Subscribers and RPCM Users!
We're extremely happy to announce after 3 months of super-intensive development a new version of RPCM Software 0.7.1.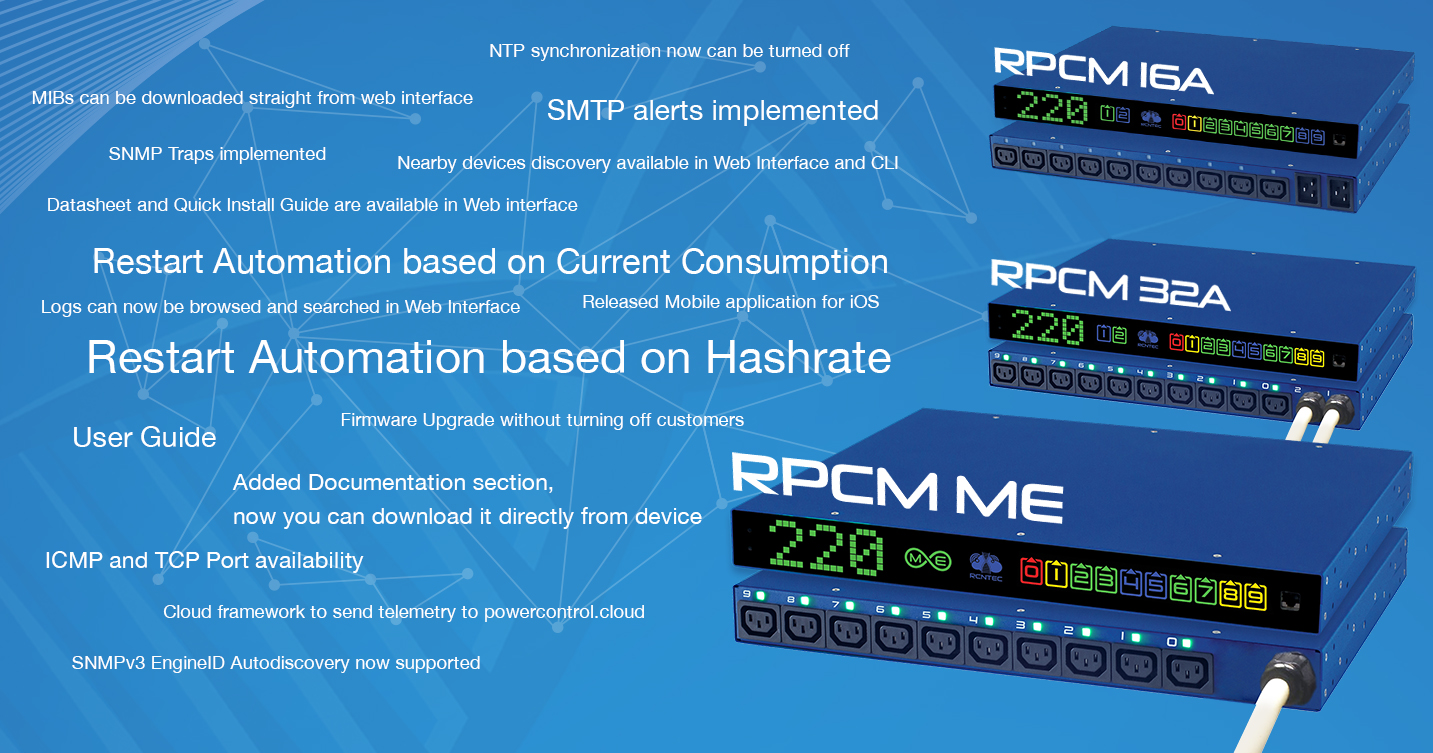 This update is a big step forward, that makes RPCMs, that already are the most sophisticated Smart PDUs on the planet, even more sophisticated and useful for many of your practical use cases.
This release finally introduces long awaited automated restart functionality, that is extremely useful for mining customers, who can now earn even more cryptocurrencies thanks to automated monitoring of hash rate of their mining equipment and restarting in case hash rate goes below expected values.
Automation of restarts is no less useful for many other industries that make use of distributed remote infrastructure. For instance, RPCM can monitor and automatically restart modem and/or router of your remote location if it notices, that communication has been lost. This measure is what is usually done first manually with instructions on the phone by people, nearest to failed equipment or by deploying engineers on-site to rectify the problem. Now this can be done in automated manner thereby significantly reducing downtimes of your remote locations and reducing costs of problem rectification.
Also, RPCMs can monitor and restart your servers based on ICMP ping loss, unavailability of TCP Port (effectively your services) and even based on reduction of Power Consumption that may happen if server is stuck by failure of operating system.
As before, measurement of power consumption allows you to get better understanding of your infrastructure and provides more information during troubleshootings.
We also have made documentation and MIBs more available to you - now they can be downloaded straight from the RPCM's web interface.
As you may already know, RPCMs are designed to be easy to use and quickly deployable especially for large installations. We have made it super easy to discover nearby RPCMs right in the web and command line interfaces.
We've finally implemented SMTP alerting for those customers who prefer to be alerted of important issues by email.
For customers using centralized monitoring systems, SNMP Traps have been implemented.
We've also implemented SNMPv3 EngineID Autodiscovery to simplify configuration of RPCMs within your monitoring systems.
We've made logs browsable and searchable in web interface for your convenience.
We've laid foundation for upcoming cloud functionality with implementation of telemetry shipping to the cloud, should you choose to allow this in your RPCMs.
This update now support HTTPS access to web interface for improved security of your remote access to RPCMs.
We've significantly improved REST API, which now allows much more control and much easier programming thanks to endpoints providing self-documented field names.
We also took time to fix some annoying bugs that have been discovered by ourselves and by our great customers, some of which are fixed in firmware. We are happy to provide new Firmware within this Software update, which, what is very important, can be installed without any disruption to power, supplied to your consuming devices.
Below you can find Release Notes for this update:
New Features
- Restart Automation based on Hashrate, Current Consumption, ICMP and TCP Port availability
- MIBs can be downloaded straight from web interface
- User Guide, Datasheet and Quick Install Guide are available to download from device itself in Web interface
- Logs can now be browsed and searched in Web Interface
- Nearby devices discovery available in Web Interface and CLI
- SMTP alerts implemented
- SNMP Traps implemented
- SNMPv3 EngineID Autodiscovery implemented
- Cloud framework to send telemetry to powercontrol.cloud
- Firmware Upgrade without turning off consumers
Improvements
- HTTPS supported in web
- Improved REST API
- Improved web client automatic update after software update
- NTP synchronization now can be turned off
Bug Fixes
- Firmware update 0.9.429 corrects bug that may lead to meters incorrectly counting energy consumption
- Fixed bug leading to graphs not showing in dashboard sometimes after user returns to browser
- Reduced possibility of not getting ip address
- Reduced possibility of not announcing device via Bonjour
- Minor interface improvements
In order to get and install this Software Update, please contact our Support Team via support@rpcm.pro or chat on our website rpcm.pro with SerialNames and/or SerialNumbers of your RPCMs along with current versions of Software. Given this information, our Support Team will provide you with personal link to download software update for your RPCMs.
We would be extremely grateful for your feedback on new features and your experience with RPCMs in general.
Many thanks for being our customers!

We want as many customers as possible to make use of new features, so we would be delighted to offer you 10% DISCOUNT on all models in case of payment before April 30th, 2018! Please, use the following promo-code to get the discount: RPCM352MN2.
With kindest regards
RCNTEC RPCM Support Team
+ (495) 009 87 87,