RPCM Smart PDUs have been integrated into "smart home"
The Kontur group of companies has integrated Smart PDU RPCM from the Russian manufacturer RCNTEC into the "smart home" system for use in private households.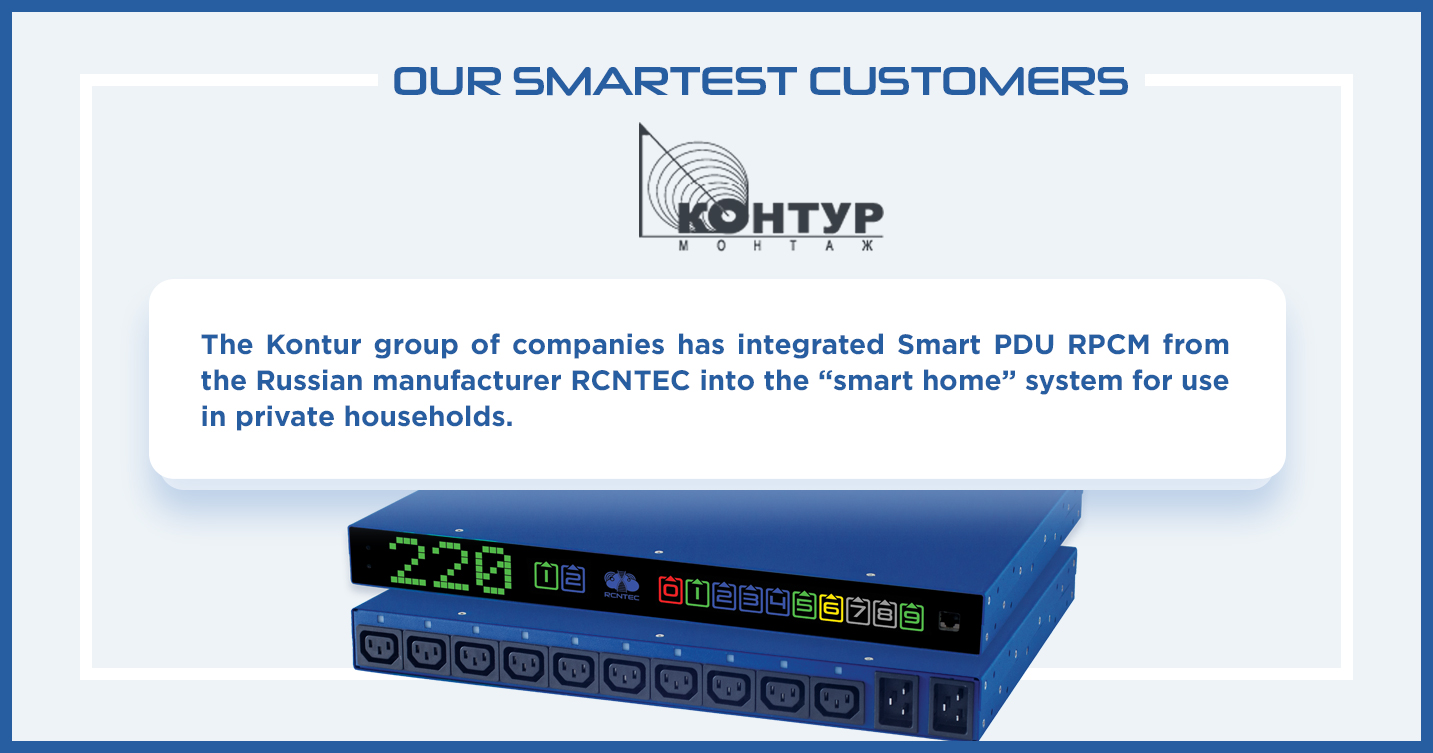 Smart PDU RPCM 16A integrated via REST API into "smart home" control systems based on Crestron and KNX. The integration of the Smart PDU RPCM allowed Kontur group to remotely monitor and control the power supply system in private households and quickly resolve any issues related to the power supply of the "smart home" equipment.
"For us, the main function of RPCM is remote power management of devices prone to freezing. For example, satellite TV receivers and some other multimedia devices. Smart PDU RPCM automatically reboots hung equipment or send failure notifications to our administrators," - said Anton Tarashchansky, CTO at Kontur group.
"The "smart home" system solves a number of daily tasks and increases safety. But in order for a "smart home" to be truly smart, it is necessary to carefully select, adjust and install all the equipment, and most importantly, implement the scenarios necessary for a specific user - such are the tasks that GK Kontur perform for their customers. Utilization of RPCM Smart PDU in the "Smart home" system not only enhances management and monitoring accessibility, but also allows you to quickly influence the situation remotely. We are pleased that Kontur group chose our solution, we are sure that Smart PDU RPCM will recommend itself at the highest level and in this area too and will ensure reliability and comfort for the customers" - says Maxim Danilov, BDD at RCNTEC.
Smart PDU RPCM in the "smart home" system allows you to remotely monitor and manage the power supply inside and outside of the building via web-interface and mobile application or using REST API or SNMP, helping integration to any existing smart home management system. RPCM Smart PDU prevents fire hazard, protects from short circuit, determines the presence of a properly connected grounding and prevents power outages on equipment with a single power supply, using built-in automatic transfer switching function (ATS). Thanks to configurable "survival" priority, the RPCM Smart PDU prevents shutdown of all equipment upon total current excession.
Smart PDUs RPCM are already used in 14 countries of the world and in more than 20 cities of Russia, helping to ensure the smooth operation of the infrastructure in a variety of industries such as telecom, data centers, energy, hosting, logistics, satellite navigation, software development and many others.
Press Center, RCNTEC
Marina Krylova,
Lead PR Manager,
+7 (495) 009 87 87,
+7 (915) 410 60 49