Press-release on RPCM Software 0.9.1 Update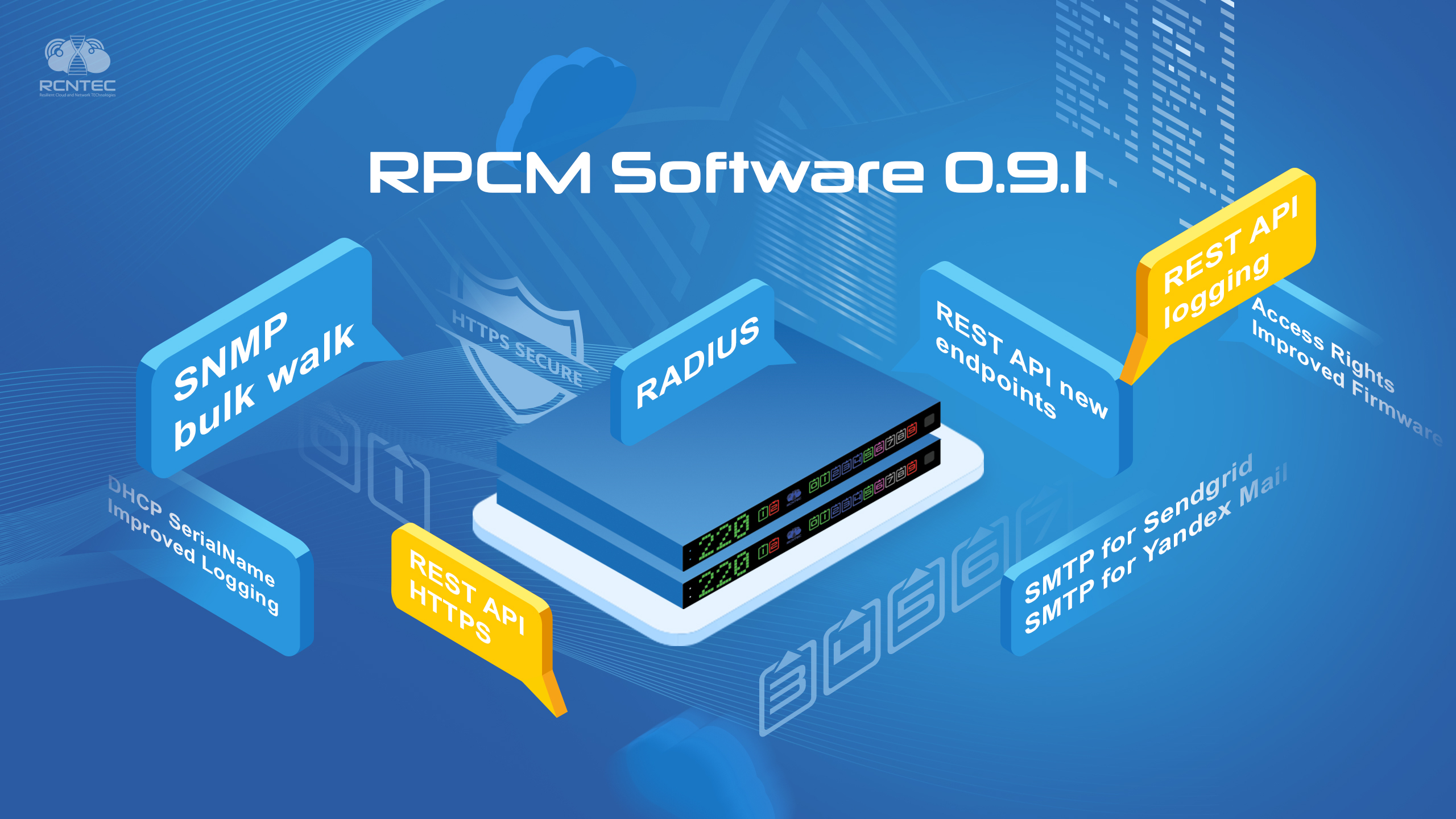 After many months of development and thorough testing, today RCNTEC is very glad to release RPCM Software 0.9.1. With several years of experience, great feedback from customers and lots of RPCMs out there in the wild helping customers do their job this is the most stable and resilient release over the whole history of the RPCM Software.
This release adds many essential and practical features that many of RPCM Smart PDU have been asking for a while. It also fixes some annoying issues making RPCMs that people love even better.
Here's what's new in RPCM Software 0.9.1 (Firmware 0.10.41) (compared to 0.8.1 (Firmware 0.9.768)):
New features:
- Added RADIUS support for authentication;
- Added group-based authorization with granular permissions;
- Added HTTPS support for REST API;
- Added new REST API calls for outlets configuration, automation configuration and time setting;
- Added REST API logging;
- Added SNMP bulk walk support;
- Outlet restart delays are now configurable;
- Users can now configure an outlet to stay off after RPCM is powered on (which is sometimes important, for example when it is necessary to confirm conditions at remote location after blackout before switching on equipment to avoid damage to it);
- It is now possible to create multiple tests for a group of outlets in Automation menu.
Bug fixes:
- Fixed an issue due to which SNMP could sometimes show erroneous extra large values;
- Fixed an issue with setting date/time via REST API;
- Fixed a bug where it was possible to set a non-existent color for display in SSH CLI;
- Fixed an issue due to which RPCM HLC might not restart on restart high-level-controller SSH CLI command;
- Fixed an issue where displaying logs hung when using keyword search with --include in SSH CLI;
- Fixed an issue with hanging of the Network Utilities;
- Fixed an issue with resetting network settings in SSH CLI on input of incorrect netmask;
- Fixed a bug that prevented changing the default gateway for static IP configuration via Web;
- Fixed an issue that have lead to possibility of loss of last logs in the event of blackout as well as notification email may have not been sent before RPCM was shut down;
- Fixed an issue due to which control from buttons on display might have led to loop, requiring restarting of the HLC;
- Firmware: Fixed an issue that could have led to false detection of short circuits during delayed start procedure;
- Firmware: Fixed an internal controller communications issue that have led to delays with responses to commands, button presses and have led to displaying messages on physical display several times and/or with delays.
Improvements:
- Improved authentication logging - now users can differentiate sessions of the same user and see if the user was authenticated locally or by a particular radius server;
- Reduced HLC CPU consumption by SNMP;
- Colorized keywords of logs in system journal in web-interface for easier reading;
- SMTP settings have been made more compatible with more email providers like Sendgrid and Yandex Mail;
- Now DHCP announces RPCM's SerialName instead of just "RPCM" for easier matching at DHCP Servers;
- We've improved survivability of critical internal processes to ensure better remote availability of RPCMs in case of unexpected software errors;
- Firmware: Improved support of non-sinusoidal voltage signals on inlets;
- Firmware: Buzzer alternating sound has become more even.
Some of RPCM Smart PDU customers who have been provided with early access to this software update have already installed it and confirmed its great work!
RPCM Software update is available for download in https://rpcm.cloud for all RPCMs that are under active warranty.