RCNTEC presents the Resilient Cloud Storage system in Kazakhstan, at the International Grand Forum BIT-2016
RCNTEC – a Russian developer of IT solutions for business – continues to present their solutions and products at the leading industry events in Russia and abroad. On June 23, 2016, the company's representatives will talk about the flagship project - the Resilient Cloud Storage system – in the main event of the ICT market of the business capital of Kazakhstan-Almaty – the International Grand Forum "Business and IT. Around Data Centers. Around Call Centers. Around Cloud Technologies. Around Internet and smart decisions for Business. Around IP" (or BIT-2016)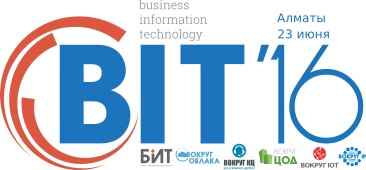 Resilient Cloud Storage - a hardware - software complex, which allows to start the construction of a storage system from several modules with their own controllers, linearly increasing capacity and performance as needed. This allows you to create a storage of up to hundreds of petabytes, avoiding problems such as poor scalability and low speed of self-restoration.
The International Grand Forum "Business and IT. Around Data Centers. Around Call Centers. Around Cloud Technologies. Around Internet and smart decisions for Business. Around IP" (or BIT-2016)- is a unique event, characterized by complex approach, content of high quality and a unique atmosphere, which unites the best representatives of the ICT community.
On this event will be disclosed all the issues associated with data centers, modern infocommunication services, building and managing of effective contact centers, the Internet, cloud computing and practical application of IT solutions in business processes.
RCNTEC Press Service
Marina Kriulina,
PR-manager
8 (495) 620-87-87
8 (915) 410-60-49