RCNTEC and CROC became partners in the field of promotion of Russian data storage systems
08.06.2016
RCNTEC company – a Russian developer of IT solutions for business - signed partnership with a leading system integrator of Russia – CROC – for the joint promotion of flagship development of RCNTEC – unique horizontally scalable storage system of enterprise-class, Resilient Cloud Storage.
Moscow. June 8, 2016. As part of this partnership, one of the largest Russian CROC integrators will use the storage system Resilient Cloud Storage in their projects on implementation of Russian enterprises with advanced solutions in the field of IT and replacement of the imported software and hardware in this area.
Enterprise-class storage system, Resilient Cloud Storage – advanced and entirely Russian design, functional and modern, especially in the light of import substitution policy.
RCS – elastic system, that has the potential of scaling out up to hundreds of petabytes with linear performance growth, simultaneous to the volume growth, and the capacity for self-restoration, with the support of modern protocols such as S3 and RBD, allowing better, easier and more efficiently solve the problem of storing and working with large volumes of data.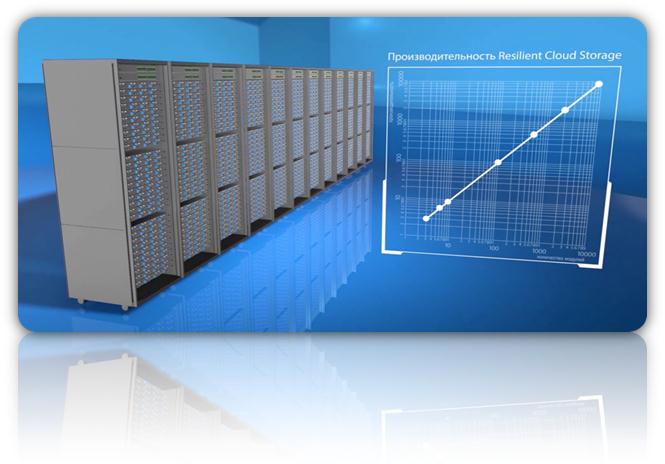 The key benefit of Resilient Cloud Storage system – the ability to scale out up to hundreds of petabytes in a single storage system. This is achieved by the unique architecture of the solution, which has no dedicated storage controllers, always having a performance limit, number of supported disk shelves and interfaces for communication with the outside world, which creates the effect "a bottle neck" when you work with data.
Resilient Cloud Storage controller has a built-in module in each disk, thereby providing the opportunity to work with huge volumes of data without sacrificing performance of the whole system. With the addition of new disk modules linearly increases both the storage capacity and performance.
No less important advantage of this system is its reliability. Data is reserved triply, RCS customers can interact directly with the storage units, but there are also anticipated resource groups for high-priority, high-load applications. In addition, there is a recovery function and automatic balancing of data implemented in RCS. In case of failure of a disk or module, the system will recover automatically, recreating redundancy for a free space with minimal performance degradation. When you add new modules, the data balance is performed automatically.
Vladimir Kolganov, head of data storage systems area, CROC:
"Against the background of high exchange rates and a difficult geopolitical situation, which may also cause disruptions of equipment supply or termination of access to technology for some of Russian companies, the customers are looking for possible ways to minimize the risks, when upgrading their infrastructure. The solutions, capable of replacing imports, step forward. We, from our side, research the market and select the operational options with an alternative potential. So, only during the last year we tested in our laboratory six solutions of different Russian and Eastern manufacturers. Resilient Cloud Storage is acknowledged one of the most promising for implementing cloud infrastructures."
Dennis Neshtoon, CEO of RCNTEC:
"Resilient Cloud Storage is the flagship product of RCNTEC, focused on large corporations, private and public projects, which need a true cloud scalability for performing their tasks, but they also have to organize it in the best way within their own clouds in their own datacenters. CROC is a leading player on the IT market in Russia and, of course, has extensive experience, including the building of a storage infrastructure in large enterprises of our country. We know that CROC selects only the best solutions for their projects and we are proud to become their partners. We are confident that our system will take a worthy place in the line of products that CROC offers to their customers."
About the companies:
CROC
CROC has been working on the IT market since 1992 and today it is among the top 10 largest IT companies (RIA Rating, 2015) and the top 3 consulting companies in Russia (Kommersant-Money, 2015).
CROC is №1 among the providers of IT services in the country (RAS, 2015); the leader on the market of IT outsourcing (CNews, 2014), application control (RAS, 2015) in segments BI and ERP solutions (TAdviser, 2015), the market of electronic document management systems (EDMS) (TAdviser, 2015), in the field of telecommunications (RA "Expert", 2015) and video conferencing (TAdviser, 2014), as well as complex projects of building data Center infrastructure (CNews, 2015), buildings and facilities (CNews, 2015).
CROC offers its own network of commercial data centers and their public cloud, the company builds both private and hybrid cloud-based data centers for customers. It is the only integrator whose data center was fully certified for TIER III by the Uptime Institute.
For more information please contact the press service of the CROC:
LLC RCNTEC
RCNTEC – Resilient Cloud Network Technologies – Russian developer with more than 20 years of experience in the field of information technology. Main activities of RCNTEC — the creation of scalable and resilient solutions, support of IT infrastructure for companies of any size and profile, development and sale of unique IT solutions to improve business efficiency and the provision of operator's communication services.
Currently, the company operates in more than 80 cities of Russia and Europe, employs more than 1,000 people. RCNTEC maintains large data centers with thousands of servers, large-scale packet telephony systems, the total number of subscribers is more than 40000.
Among the customers and partners of RCNTEC – the group of "LUKOIL" companies, the largest operator of Express delivery DHL, Sheremetyevo international airport, embassy of the Republic of Bashkortostan under the President of the Russian Federation and other major companies.
The flagship development of the company – flexible and distributed Resilient Cloud Storage system and high-performance, horizontally scalable two-factor authentication service AUTH.AS, etc.
RCNTEC is an official partner of SOCOCO in Russia and Europe.
The more detailed information you can find on the websites of the company: www.rcntec.com, www.resilientcloudstorage.com, www.auth.as, www.sococo.ru.
Press service of LLC "RCNTEC"
For more information please contact:
Marina Kriulina,
PR-manager of LLC RCNTEC,
8 (495) 620-87-87,
+7 (915) 410-60-49,