We invite you to visit the RCNTEC booth at the annual international conference and exhibition "Data Center 2019"!
On September 12, guests of our booth will have a unique opportunity to see and test ALL RPCM Smart PDU models at once and win a certificate for the purchase of any model with a discount of up to 50%!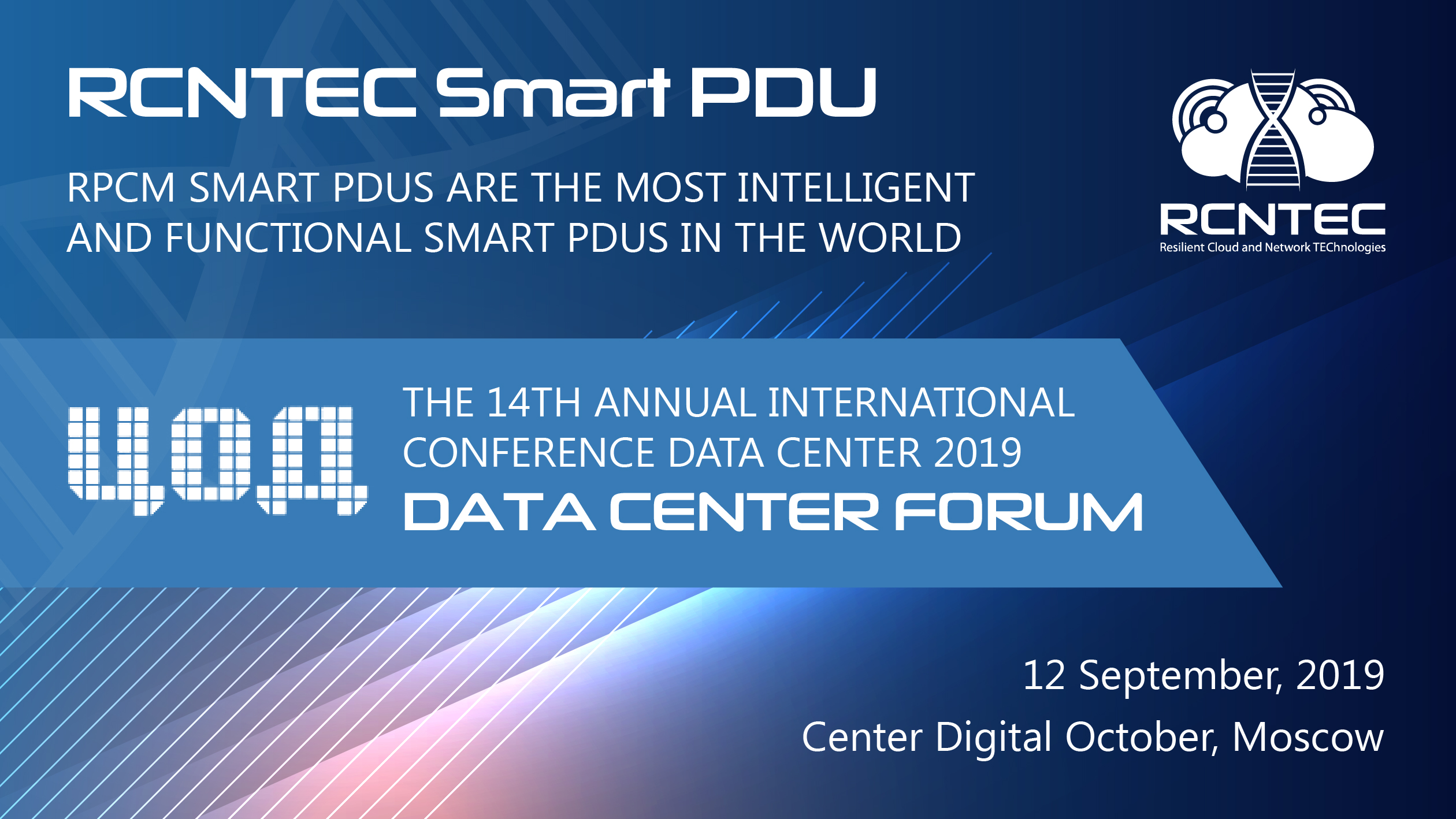 This year's booth will feature: RPCM 16A, RPCM 32A, RPCM 63A Mining Edition, RPCM 3x250, RPCM DC 232A, RPCM DC ATS 76A.
At the RCNTEC booth you can:
• Learn how to increase uptime, reduce downtime, and save with RPCM Smart PDUs
• get to know each of the models and their new features closer
• learn about the opportunities gained through the use of RPCM.CLOUD
• work with the interface
• get advice from a system architect RPCM
• book a demo unit of any model from the RPCM line for FREE testing in your premises
• participate in the drawing of certificates for discounts up to 50%.
RPCM Smart PDUs are the most intelligent and functional Smart PDUs in the world.
Smart PDU RPCM combines functions in one device:
• remote management (WEB / SSH / SNMP / REST API;
• Short circuit protection on each outlet;
• ABP (Automatic Transfer Switch), diagnostics of correctly connected grounding;
• electricity meters for each of 10 outlets;
• watchdog timer to automate the restart of frozen equipment;
• protection against fires and set delays when applying power, which allows you to start the infrastructure in the right order and avoid high inrush currents.
RPCMs are already used in 14 countries of the world, in more than 20 cities of Russia in various industries, such as:
• data centers
• logistics, satellite navigation
• mining
• telecom
• energy
• organization of infrastructure of safe cities
• banks
• software development
• hosting, as well as in many others, in which the success of a business depends on the availability of infrastructure.
Registration for the conference "Data Center 2019"
Press Center, RCNTEC
Marina Krylova,
Lead PR Manager,
+7 (495) 009 87 87,
+7 (915) 410 60 49